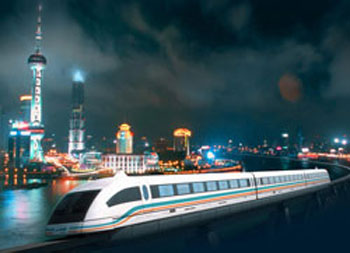 Posted to Shanghai? Preparing your relocation to Shanghai? Living and working in Shanghai? This is the site for expatriates prior and long after their arrival to Shanghai. We provide a one-stop site of sound advice for expats, facts on immigration, moving and work permits, directories for expatriates to find shops, services, health care, schools, ayis, expat and local friends, jobs for expats, banks, transport, travel, restaurants, discos, emergency info for expatriates, sport and leisure activities, churches for expats and most important: advice for expatriates on where to live and find a new home in Shanghai. A free relocation and home search program for expatriates of luxury dimensions linked to all the services you may need, gives you the right start. Welcome to Shanghai!
Photo: Siemens press picture
YOU ARE MOVING TO SHANGHAI! The biggest-booming, fastest-moving city on the planet - the city that has, once again, captivated the imagination of the whole world. You are about to embark on the most challenging, most interesting, most enjoyable ride of your life!
Life changes sure don't often come in packages this large and you will have a million things to think about, like choosing the area you want to live in and finding a new home for a start. Then there's schools, shops, healthcare, banking, telecommunications, parks, sports facilities...the list is endless. Stop, take a breath and enter Shanghai the easy way: bookmark this website!
enterShanghai takes a five-star hotel approach to the services it provides those coming to live in Shanghai for the first time and those who already live here. Everyday, we ask ourselves, why would someone want to come and visit us, use our facilities and services and return time and time again?
The result is, our visitors can find every piece of information they need, quickly and accurately without having to spend hours trawling through chatrooms and forums. That's why we attract only the leading partner organisations that can provide you with the services you need to smooth your transition into your new Shanghai life.

APARTMENTS AND HOUSES FOR RENT

The best and most reliable way to prepare your relocation is to contact Kevin Harding from Elite 8 Consulting who will prepare your visit free of charge by organizing an orientation, your home search, schools search, office search, ayi search. Engage Kevin and you get free access to a full online relocation guide similar to a 250 pages book on moving to Shanghai. e-relocation Shanghai links also to this website's info. You, your partner and your family can access the online guide anytime and anywhere in the world to prepare the move and organize your new and exciting expatriate life. A number of online tools such as your personal data base or templates guarantee good time management while over 1,000 pre-selected website links assist all of you to prepare for this challenge as best as you can.

Do you need a new roof over your head? No clue where to start? No idea about rentals? Visit the Housing Market with tips on on how to select a district close to your office, the international schools and shops catering for expatriate needs. Find out how much house you get for your housing allowance, view the latest rentals and read all you need to know as an expatriate relocating to Shanghai.

If you are interested in the homes featured in this website, kindly send us an email and include your phone numbers and a convenient time to contact you (see Worldclock). Once you entrust us with finding you a home with a rental allowance above USD 2,000 you qualify for e-relocation Shanghai - access to an online relocation guide similar to a 250 pages book. All our services are free of charge for you and your company.

I want to thank you and your company for standing by me the whole time and going the extra mile to make sure problems are resolved. You have gone above and beyond to make sure that I am taken care of. Your company is truly a relocation service and not merely an apartment hunting service. Your company has made the difference between me enduring a nightmare and having it all work out.
J. Ryan Hemingway
California
March 2006


3/4/5 Bedrooms
USD 2,800 - 8,600
Click image for more info
Contact us


3/4 Bedrooms
USD 3.500 - 13,000
Click image for more info
Contact us


2/3 Bedrooms
USD 2,000 - 2,500
Click image for more info
Contact us


2 Bedrooms
USD 3,000
Click image for more info
Contact us


2 Bedrooms
USD 3,000
Click image for more info
Contact us

Marriott
Executive Apartments
3 Bedrooms
USD 5,900
Click image left for more info
Contact us


2 Bedrooms
USD 4,000
Click image for more info
Contact us



1-4 Bedrooms
USD 2,300 - 5,000
Click image for more info
Contact us


1/2/3 Bedrooms
USD 2,000 - 4,000
Click image for more info
Contact us


3-5 Bedrooms
USD 2,500 - 4,000
Click image for more info
Contact us

Shanghai Info

Banking and Taxation in Shanghai
About the currency and foreign exchange counters at the airport, how to open up a bank account, about local and foreign banks, making payments, the stored valued card, credit card applications and reporting loss of credit cards, joint accounts, passwords, tax rates and............

Car and Driving in Shanghai
About importing, purchasing, leasing and driving a car, hiring a driver, riding a motorcycle or bike, about car accidents and paying fines ....

Career in Shanghai
About the job market for trailing spouses, job search and web sites, business attire and etiquettes, learning mandarin, self employment, volunteering, business groups and associations, study in Shanghai....

Children in Shanghai
About living with children in Shanghai, kids' clubs, activities, sports, adoption in China...

Shanghai Facts
About the climate, culture, religion, currency, electrical info, history, languages, living expenses, places of worship, location...

Education in Shanghai
About the choices of educating children in Shanghai with a list and links to all international schools, preschools and kindergartens in Shanghai ....

Entertainment in Shanghai
About nightlife, dance, theatre, music, pubs, events, discos, festivals, karaoke, tickets, venues...

Health in Shanghai
About local and Western hospitals, clinics and specialists, alternative treatments, food allergies, emergency care and transport, first aid, pharmacies, disabilities, blood banks, blood testing, support groups, culture shock, alcohol support groups, maternity care, psychological support ....

Housing Market Shanghai
About where to live and how to choose a home, areas, types of homes, budgets and locations, selection of suitable and available properties, rental prices and conditions, step-by-step rental guide, maps, online viewing of available homes ....

Immigration to China
About immigration papers, work permit, employment pass, tourist visa, work visa, student visa, journalist visa, transit visa, business visa ....

Insurance in Shanghai
About health insurance, maid insurance, car insurance, travel insurance, pet insurance, household insurance, home content insurance....

Pets in Shanghai
About pet's viewpoint on living in Shanghai, immigration, pet supply and services....

Public Transport Shanghai
About the metro, Maglev, Pudong International Airport, Hong Qiao Airport, maps, busses, taxi, trains, shuttle services, stored value cards ....

Telecommunication and Media in Shanghai
About TV, cable, TV license, broadband, computer, Internet, telephone, mobile phones, IDD, cyber cafes, foreign and local media ...


Join as a partner and place your banner ad here