Telecommunication and Media in Shanghai :
Setting up Internet, Phone and TV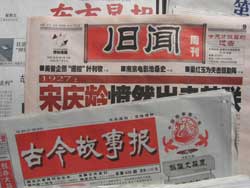 Shanghai has a pretty good telecommunications infrastructure. Telephone lines are reliable and international dialing is simple to arrange, although through lack of competition, prices for calls will be more expensive than in your home country.
.
Broad band is inexpensive, widely available and usually included in rental packages. However, it is much slower than the in the west, even if you have the widest possible connection.
Sending large files can be a complete nightmare and everyone experiences long delays in sending and receiving emails from abroad. For some reason, offices generally have much faster connections. So, if you need to send a big file or do something in a hurry - use your partner's office facilities.
You need to be aware that many internet sites are unavailable from China because their content is deemed unsuitable. This can be frustrating if you are trying to track down news from your home country.
---

Setting up a Phone
Info: Phone Inquiries
Applications for residential lines
800-8105-518
Applications for business lines
800-8105-518
Mobile Service Hotline
Enquiries Calling from Overseas
800-8105-518
Customer Service Hotline
Residential Telephone Enquiries
800-8105-518
Sales & General Enquiry Toll-Free Hotline
800-8105-518

Applications for telephone lines
Applications take 3-6 days to process. Call Shanghai Telecoms, and they will send their team down to connect you. The landlord usually applies for the telephone line, as it should be in the name of the owner of the property. He will have to bring evidence of home ownership.
---

International Direct Dialing (IDD)
Shanghai Telecoms has a monopoly, so IDD rates are not as competitive as they are elsewhere.
With the Shanghai Telecoms Yitong card, you can use a stored value card to make international long-distance calls.
Yitong cards, and all calling cards, may be purchased at post offices and convenience stores. You can also buy them online at:
Info:
To dial internationally from Shanghai, use the following access code
Shanghai Telecoms
00 + country code + city code + called party's number
Shanghai Telecoms is offering a China Calling Card Service, which uses an intelligent card (300) which retains your account number and password, and automatically debits the card each time you use it. The card is obtainable from the web site above and from the post office.
---

Internet Phones

You can use either PC-to-PC calling, which is usually free, or PC-to-phone, for which you have to set up an account and get charged phone rates.
---

Mobile Phones

The mobile phone market can be almost compared to selling fast, perishable fruits, as a model just purchased will be outdated within a short while. Prices usually drop dramatically just one month after their launch. A pay-as-you-go mobile phone can be purchased for 600-700rmb plus the cost of a sim card (e-tong cards are popular and widely available).
Calls are cheap and you can find 100rmb stored value cards for mobile phones from most convenience stores. The operation for loading the stored value onto your phone is in English.

It's wise to keep the paperwork you get with your sim card to ensure you are buying the right stored value card for your particular service provider, as there are several operators competing in this frenetic marketplace.
If you already have a mobile phone, you might find that Chinese sim cards will work in it just fine. This depends entirely on the model and make of your phone.

Of course, you might even choose to keep your current service provider and pay your bill back in your home country. Although, costs for dialing and receiving are extremely high.
The network coverage across China is excellent and there are few places where you will fail to get a signal.
Info:
| | |
| --- | --- |
| Shanghai Mobile Communication Co. Ltd. | http://www.shmc.com |
| China Unicom Shanghai Customer Service Center | Tel: 1001 |
---

If you decide to dial direct via a modem, you will need an ISP, or internet service provider. Rates vary, so you should check around. In this case, you will have to pay the ISP monthly charge on top of your phone bill.
---

Cyber Café & Public Internet Access Points
Shanghai has quite a few cyber cafes, but many are underground and almost all are smoke filled and unpleasant. After a fire in Beijing killed several patrons at an illegal internet cafe, the authorities have been cracking down hard. Even the legal ones seem to keep moving, so it's best to check the web or to go to the Shanghai Library, where there is a large public internet access room.
Addresses:
Free Internet Services
Nangka Cafe
209 Fuxing Middle Road,
Shanghai
Tel: 53822477

Shanghai Library
1555 Huaihai Zhong Lu
Tel: 6445 5555
---

Applying for Cable TV
---

Television Receiver License
---

Local and Foreign Media
Western newspapers are not freely available in Shanghai. Only at a few major hotels will you find the International Herald Tribune and Hong Kong's South China Morning P ost The most commonly read newspaper is the Shanghai Daily, which does cover major international events, but is mainly concerned with the economic progress of the city.

Western magazines too, are extremely hard to come by in Shanghai. However, the free local listings mags like Shanghai Talk, 8 Days, That's Shanghai and City Weekend offer recreational reading. It might be worth considering a postal subscription to your favorite title before leaving home. Alternatively read the web version. For contact info see
e-relocation Shanghai Step 6 Settling in or Step 1 Staying in Touch.
Many of the major expatriate associations have their own monthly publication for members, with information on expatriate life and events.
Info:
ShanghaiExpat.com is the largest expat community website in Shanghai. The destination for expats, locals, and anyone else with an interest in living and working in Shanghai. Includes a highly active forum, a classifieds section with daily new posts, and regularly updated articles on all aspects of life in Shanghai, including food, relocataion, nightlife, businee, transportaion, travel and education.
Courier (Shanghai Expatriate Association )
Judy Vessey
Tel: 6299 9999 ext. 1101
Spirit (American Women's Club)
Laine Loveland
Tel: 6415 9801
Addresses
Shanghai Daily
Floor 38, Wenhui-Xinmin United Press Tower
No 755, Weihai Road
Tel: 8621 52921234-638114
email [email protected]
Subscribe

Economist Group (Asia-Pacific) Ltd
Bldg 9, Ruijin Guest House
118 Ruijing 2nd Lu
Tel: 6473 7128

Financial Times
Rm 403, Shanghai Centre
1376 Nanjing Xi Lu
Tel: 6279 7234

New York Times
703A Shanghai Centre
1376 Nanjing Xi Lu
Tel: 6279 8585

Reuters/Monitor Services HK Ltd
F11, POS Plaza
1600 Century Blvd, Pudong
Tel: 6875 2585

Shanghai Excell Information Developing Co Ltd
Rm 501, No. 132
Lane 2222, Hongqiao Lu
Tel: 6242 0561

Wall Street Journal
Rm 2301, Westgate Tower
1038 Nanjing Xi Lu
Tel: 6218 3568

Dow Jones & Company, Inc
Suite 2508, Jinmao Tower
88 Shiji dadao
Tel: 5047 4868

Far Eastern Economic Review
Suite 536, Shanghai Centre
1376 Nanjing Xi Lu
Tel: 6279 7335

International Finance News
F12, 1399 Minsheng Lu (200135)
Tel: 6854 7177

Newmarte Media Services Co Ltd
Suite 1307, Huaneng Union Tower
139 Yincheng Dong Lu
Tel: 6886 4042

Shanghai Daily
F40, Wenxin United Press Tower
755 Weihai Lu
Tel: 5292 1589

Shanghai Star Readers Service Co
634 Hengshan Lu
Tel: 6437 7050-2045

More magazines see Entertainment and Tourism and Travel
---

TV Broadcasting Channels and Radio Stations
See
e-relocation Step 6 Broadcasting and TV
for international information.
---

Mail
---