Living with Children in Shanghai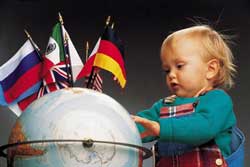 Bringing children to live in Shanghai can create lots of anxieties. People will tell you that there are no parks or green space, that it's dirty and polluted and that there is nothing for children to do.
To be honest, some of this is true, but the same can be said for all major cities and there are few who would disagree that the benefits of raising children here far, far outweigh the negatives.


The first thing parents notice is that Shanghai is an extremely safe environment. Chinese people adore children and will go to great lengths to entertain and spoil your offspring at any given opportunity (this can be a little overwhelming and strange at first). With inexpensive household help, you will also find yourself, instead of being loaded down with chores, able to spend more quality time with your children, taking them swimming, or to the park, or to one of Shanghai's amazing museums, or to play with other children in the neighbourhood.
See also Schools and Kindergarten > Education
You will find fellow expat parents much more open and friendly and willing to go places and try things than the folks back home. Living in this tight-knit community can be a truly positive experience, especially with children able to play in and out of each other's homes and parents not having to worry about tidying up afterwards! Inexpensive babysitting is a real benefit too. More often than not it is ayis who babysit, allowing parents a little bit of freedom that might have been harder to come by in their own country.
There is an endless advertise of activities for children in Shanghai. - the one-child policy has made Chinese parents very child-focused, and a plethora of child-friendly entertainment is the result. On top of the countless city parks (see parks section), museums and leisure facilities, there is a whole host of adventure and water parks, day trips, arts and crafts groups, wildlife parks, children's theatre and cinema and a zoo. Plus, there are ad-hoc events, like storytelling and magicians, put on by expat family groups. For more details check the weekly and monthly advertiseings magazines available in most restaurants, bars and supermarkets.
Toys and clothes are easy to come by and very inexpensive. Almost everything you need will be sold in the large department stores, malls or Carrefour supermarkets. Children's shoes, made from real leather, can be hard to come by, as can English children's books, so stock up before leaving home.
One of the best things about living in Shanghai as a parent is that you will never have to worry about eating out with your kids. Children are welcome absolutely everywhere, in even the smartest of restaurants. This is so refreshing for western parents used to being sidelined to low-grade pizza joints or having to endure icy stares from stuffy patrons of even stuffier restaurants. Many restaurants and some bars have child-friendly facilities and, even if there isn't, the staff will be more than happy to play with your child while you enjoy your meal.
On the downside, the weather can be cruel in Shanghai, making it hard to get around and do things with your children. In February and March, it is so cold andwindy that the parks are deserted. And, in July, August and much of September the temperature can be so scorchingly hot and the humidity so high, that, other than a visit to the pool, your children will not want to go out. For this reason most expats leave Shanghai for July and August, returning to their home countries to see their families.
Addresses
Mama's Classroom for Expat Mothers
Learn Survival Skills for Shanghai
Chiuna Home for Children
21 Donghu Lu
Email
MOMS - Moms offering Moms Support
Tel: 5030 4222234
Email
Shanghai for Kids
Guide for expat families
available from the Shanghai Community Center
all branches of Pines the Marketplace
Concordia International School Shanghai
Tel: 5899 0380 ext. 1105 (Michelle)
Email
There is not doubt that your children will get to experience new cultures, see new and exciting things, go to beautiful places and make new friends with children from all over the world. These experiences will make an invaluable contribution to their education and to their relationship with the world. But, it's important to be aware that when you move to Shanghai, particularly if it is your first overseas move, it will change your child's life forever. They will lose touch with their own culture, making them "third culture kids" - children who grow up "between worlds". Overall, it's a positive experience, but they will also have to deal with issues of rootlessness, identity, and having to say too many goodbyes. See also e-relocation Shanghai Step 1 and Step 6
See also Teenager's Life in Shanghai , Third Culture Kids (TCKs)

---

Activities for Children
Addresses
Active Kidz Shanghai (AKS)
ages 4 - 13 (English)
Nice YEar Villa, The Clubhouse
2/F 3333 Hong Mei Lu
Changning District
Tel: 6406 6757
Website
Aquaria 21
South American Themed Underwater World Aquarium
Gate 4 Changfeng Park
451 Dadyhe Ly
Tel: 6286 6399
Website

Dino Beach
Water activities for all ages
78 Xin Zhen Lu
Qi Bao Town
Minhang District
Tel: 6478 3333


China Welfare Institute Childrne's Palaces
limited English
64 Yan'an Xi Lu
Jing'an District
Tel: 6249 8661

Beluga Wahles Show Stadium
inside Changfeng Park see above

Century Park
Outdoor Water Theme Park
78 Xinzhen Lu
Minhang District
Tel: 6478 3333
Website
Fun Dazzle
Indoor Playground (Birthday parties!)
780 Changning Ly
Zhongshan Park
Tel: 6210 7288
Fuxing Park
Bumper Cars, jumping beds etc.
2 Gaolan Lu
Tel: 5386 0662
Gongquing Forest Park
2000 Junggong Lu
Tel: 6574 0586
Guyi Garden
Ming Dynasty Garden
218 Huyi Gong Lu
Tel: 5912 2225
Jingjang Amusement Park
201 Hongmei Lu
Tel: 5420 4956
Jing' An Park
1649 Nanjing Xi Lu
Tel: 6248 3238
Meadowbrook Equastrian and Rural Activity Center
3088 Shenzhuan Gong Lu
Qingpu District
Tel: 6983 0022
Website
Lu Xun Park
146 Donijanwan Lu
Tel: 6540 0009
Shanghai Discovery Children's Museum
330 Yangqu Lu
Tel: 3606 0832
Website
Renmin Park
231 Nanjing Xi Lu
Tel: 6372 0546
Shanghai Ocean Aquarium
158 Yincheng Bei Lu
Pudong
Tel: 5877 9988
Shanghai Botanical Garden Park
1111 Longwu Lu
Tel: 5436 3369
Shanghai Oreintal Green Boat Campsite
Biggest Campsite of China
6888 Huqingping Gong Ly
Quingpu District
Tel: 5932 3000
Website
Shanghai Children Museum
61 Songyuan Lu
Tel: 6278 3127
Shanghai Wild Animal Park
178 South Road Nanhui
Pudong
Tel: 5803 6000
Shanghai Modern Children Imgaination Art Centre
no 4, Lane 681 Fahuazhen Lu
Inside Primary School
Changning District
TelL 6294 1150
Shanghai Zoo
2381 Hongqiao Ly
Tel: 6268 7775
Shanghai Science Museum
inddor rainforest and IMAX 3D cinema
2000 Shiji Da Dao
Tel: 6862 2000
Traffic Park
Electric vehicles drive the "streets" of Shanghai
101 Zunyi Lu
Tel: 6259 9446
Zhongshan Park
780 Changning Lu
Tel: 6210 5806
Xiangyang Park
Amusement Park
1008 Huaihai Zhong Lu
Tel: 5404 2208

---

Creativity Classes (4-16 years)
Addresses
Hands in Clay Pottery Studio

No. 1, Lane 210 Taikang Lu at Ruijin Lu

Tel: 5465 4042

Hanguang Pottery Studio
15 Lane 188 Changshu Lu
Tel: 5403 9440
Shanghai Scouting
Tel: 136 0164 7167
Website
Roots and Shoots
Tel: 6352 3580

Children's Palaces

Each district has a Children's Palace for
after-school activities like ballet and piano
for local kids. Classes are conducted in Mandarin,
but they will accept foreign children. Ask your
landlord / real estate agent to introduce you to the
Children's Palace in your district.

Espace Pebeo
50 Moganshan Lu
Tel: 138 1787 3004

Active Kidz Shanghai

Creative dance, art classes and more for the expat child.
See also Leisure and Sport sections

---

Parties
Publication:
Riding the Dragon
by Kathleen Lau, chapter on children
Shanghai Book Traders Press
Addresses
The Party People

Creative parties for kids, with acrobats, magicians, jugglers, etc.

Tel: 1360 1640742, Sok

Simply Catering

Leigh-Anne
Can arrange for entertainment as well
Tel: 6433 7365
Email

Balloon Man

Bouncy Castle

Available from Shanghai Centre Playroom

1376 Nanjing Rd (W)

Tel: 6279 8888

Fumin Jie Smallware Market

This sprawling 'dime store' in the Yuyuan Gardens area has inexpensive toys, games, 'party bag loot' - first stop for planning any birthday party.

Grand Hyatt Pastry Boutique

1st floor, Jin Mao Building

88 Shi Ji Boulevard
Cakes in every shape.

Magic Show Party Entertainment
Magical Association Club
Tel: 136 2172 1595

JT Kids Party

125 North JiangSu Rd., Building C Website

---

Costumes (Rent + Buy)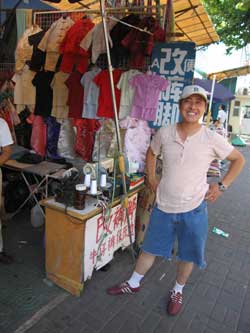 There are costumes available in Shanghai, but with tailors and fabric so inexpensive and creative here, many expats instead opt to buy fabric and have their tailor sew it up into the costume of their dreams.
Info:
Holiday House

412 Hongqiao Rd

Tel: 6472 2284
Confetti
Santa outfits for kids, Halloween Costumes, Disney character costumes
Hongqiao Villas
1554 Hongqiao Rd
Tel: 6554 2339

---

Kids' Clubs/Summer Schools/Camps
Address:
Roots and Shoots Shanghai

Jane Goodall's program on the environment
Ocean Towers, 15th floor
550 Yanan Road
Tel: 6352-3580
Website
Rainbow Bridge Summer School Program
Kindergarten through Grade 5
Preschool Classes
Activities include: swimming, soccer, field trips, computer, bowling, music,
dancing, trips to the zoo
Website
Outward Bound Shanghai
Pulau Ubin
Tel:+65 6 545 9008 h
Website
Sporty Joe (Shanghai)
Tel: +65 6546 9194
Website
Shujin Cultural Center
368 Baole Lu
Ninhang
Website

Active Kidz Shanghai

Shanghai Racquet Club

High 5 Holiday Program
Tel: 5899 3785 ext. 203
Website

---

Kids' Sport
Addresses
Active Kidz Shanghai

Sports programs and creative arts for expat kids in Shanghai.

Shanghai Football Club

Rugby and football for kids

Network Coaching

Tennis and rugby
(with Shanghai Football Club)

I love Gym (ILG)
666 Tian Yao Road
Tel: 64265090
See also Sports



---

Adoption/Birth
The combination of the one-child policy and a preference for boys has given China's orphanages an oversupply of baby girls, making it one of the most popular places in the world from which to adopt.
To adopt a child in China, you will have to liaise with the China Center for Adoption Affairs (CCAA), who will deal with you via a representative in your home country (an adoption agency, for example). It is a complex process, with reams of paperwork and takes on average 10-12 months before you get your baby.
Info:
International Families with adopted children from China
Tel: 6225 5577
Note: Registration of births can be done at your Consulate.