Preview-Visit to Shanghai: How to prepare your trip

Look and See
If it is at all possible, make a preview trip to Shanghai. Just knowing what to expect and where to go when you arrive here to live will make all the difference. When you first see Shanghai it will be quite a shock, but not so much if you have seen it before.

The best and most reliable way to prepare your trip is to contact Kevin Harding from Elite 8 Consulting who will prepare your visit free of charge by organizing an orientation, your home search, schools search, office search, ayi search.
Engage Kevin and you get free access to a full online relocation guide similar to a 250 pages book on moving to Shanghai. e-relocation Shanghai links also to this website's info. You, your partner and your family can access the online guide anytime and anywhere in the world to prepare the move and organize your new and exciting expatriate life.
A number of online tools such as your personal data base or templates guarantee good time management while over 1,000 pre-selected website links assist all of you to prepare for this challenge as best as you can.
Kevin is a British expatriate who started his own company 10 years ago and is fluent in Chinese. While Kevin still has the perspective of an expatriate coming to town he is very well connected locally and knows all the tricks to find and secure you a nice home. He is also able to provide Full Immigration Documentation Processing.


Contact Kevin Harding


---

Step-By-Step Prep Guide

You may also like to contact a moving company to discuss the import of your household goods to China. and run through the process or your relocation.

If you are planning a pre-visit trip to Shanghai: ; We have provided more info on expatriates groups in the section expat views Make contact with them before arrival and try to meet as many people as you can. This city seems so much warmer if you know where to find a few smiling, familiar faces.

The American Women's Club, the Australian Women's Shanghai Group and Brits Abroad each hold monthly morning coffees. It's a great way to meet people on the ground and get a feel for expatriate life.

---

Tipping

Tipping is not customary or expected in China. The only exception would be a small tip for the bell hop in the hotel (10 - 20 RMB) if they deliver your luggage.



---

Shopping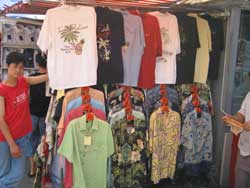 The many markets in Shanghai are attractive tourist destinations with the usual pitfalls.
Before negotiations prices are inflated and you should always walk away from the dealer when he offers the first price. It is not uncommon to reduce this price by half - actually it is expected that you negotiate!
Info: Consumer Association
| | |
| --- | --- |
| Product Quality Complaint Hotline | Tel: 6248 8931 |
| Consumer Association | Tel: 12315 |
| Consumer Complaint Hotline: | Tel: 6228 2726 |

---

Business Hours
Info:
| | |
| --- | --- |
| Office hours | 9 am - 5pm, Mon - Fri |
| Shopping hours | 10 am - 10pm, daily |
| Banking hours | 9 am - 4:30 pm, Mon - Fri; 9 am - noon, Sat and Sunday |
| Doctors | 9 am - 6 pm at clinics; 24 hours at hospitals |
| Government | 9 am - 5pm, closed noon - 2pm |
| Restaurants | 11 am - 2pm, 5 pm - 10pm daily |