e-relocation Shanghai:
Corporate online relocation guide

Introduction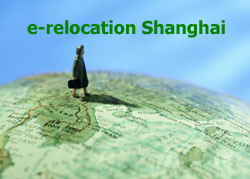 In 2000 enterAsia Information Services Pte Ltd were pioneering the development of online relocation step-by-step guides to Asia.

e-relocation Asia was developed as a generic prototype and adapted for users relocating to Singapore and Shanghai in the versions e-relocation Singapore and e-relocation Shanghai respectively.
The revolutionary combination of free corporate access to the guides with on the spot links to award winning country websites was soon

adopted by international companies to assist their transferees with the overwhelming task to organize their move and expat life in a foreign country.
For global companies such as General Motors, Astra Zeneca, Solway, Lloyds, Boing, Bosch, ICI, Microsoft, Chubb, Lehmann Brothers or Cargill e-relocation Singapore and e-relocation Shanghai are cost saving and innovative alternative solutions to traditional cost extensive relocation services.
e-relocation Shanghai is exclusively provided by Elite 8 Consulting an independent relocations & real estate company under the British management of Kevin Harding who founded the company in 2003. Elite 8 Consulting is now well established in Shanghai and other cities with over 20 employees and a large number of multinational clients.
This innovative approach to finding expatriates a new home in Shanghai has an enormous impact on the relocation process of the modern expatriate. e-relocation Shanghai enables expatriates to make the required fundamental lifestyle choices based on unbiased facts and information. Expatriate editors provide answers to the million questions 24/7 at a click of the mouse. As a result not only the transferee's transition period is reduced but also the assignment failure rate.
Get access to e-relocation Shanghai or request a presentation.
Contact Kevin Harding of Elite 8 Consulting..
Below program can only be accessed once you have been given a password and ID.
Click the image below to view a slideshow of e-relocation Singapore

---