Entertainment: Nightlife in Shanghai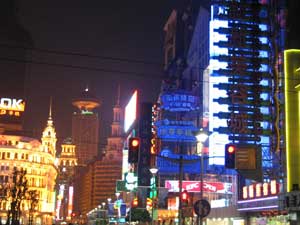 When the neon starts to jump out against the dusk skyline - Shanghai comes to life. Whatever type of bar you like, you will find it - and 50 others just like it - in the downtown districts of Jing An, XuHui and LuWan. It would take a lifetime to get around them all, but you sure would have fun trying.
People tend to go out much later in Shanghai and generally do not meet before 9 for dinner and as late as 10 or 11 for drinks.
Most bars stay open until 4 or 5am and, if you want to dance on until way past sunrise, there are a number of clubs that stay open until 8 or 9am.

Pudong's nightlife is improving rapidly with a number of new cutting-edge, stylish bars and restaurants opening in the Lujiazui area. However, as yet these can lack customers and atmosphere. Because of cheap taxis and public transport, most expats and locals look to downtown for a night out.
With people, old and young out for enjoyment, nightlife tends to be quite laid-back and intimate and the problem of fighting or street violence does not exist here. Women have no problem in going to bars alone or with girl friends. Plus, they can travel home in safety without any fear whatsoever!

---

Dance - Theatre - Music Venues
The vast majority of theatre in Shanghai is in Chinese, but the Shanghai Drama Arts Company has performed two English language productions and also shows some of its Chinese plays with English `subtitles' (a screen with translations). If this proves popular, other companies may begin making their productions more `English-friendly'. English-language plays and performances also come to the Shanghai Centre Theatre.

Dance plays a crucial part in China's historic cultural landscape and, consequently, the country's top performers regularly visit Shanghai's theatres. Traditionally, dance has been centred around the styles and narratives of different ethnic groups within China but it is developing more contemporary themes. Shanghaianese love dance and tickets usually sell fast - so always book well ahead
Info:
Bridge 8
8 Jianguo Zhong
Near Chongqing Nan Lu
Da Shi (Great World) Acrobatic and Magic Shows

Tel: 6326 3760
Experimental Theater of Shanghai
Theater Academy

670 Huashan Lu
Tel: 6248 5600

Majestic Theatre (visiting troupes)

66 Jiang Ning Road
Tel: 6217-2813
Malone's
255 Tongren Lu
Tel: 6247 2400
Shaghai Dramatic Arts Center
288 AnfuLu
Tel: 6473 4567
Shanghai Art Theater
466 Jiangning Lu
Tel: 6256 0606
Shanghai Ballet
Website
Shanghai Center Theater (Acrobatics)

1376 Nanjing Xi Lu
Tel: 5279 8663
Shanghai Centre Theater
1376 Nanjing Xi Lu
Tel: 6279 8663
Shanghai Circus World
2266 Gonghexin Lu
Tel: 6652 6059
Shanghai Concert Hall

523 Yan'an Dong Lu
Tel: 6386 2836
Shanghai Grand Stage Inside Shanghai Stadium
1111 Caoxi Bei Lu
Tel: 6438 5200
Shanghai Grand Theatre
300 Renmin DaDao
Tel: 6372 8701
Shanghai Oriental Art Center
425 Dingxiang Lu
Pudong
Tel: 6217 2426
Shanghai Stadium
666 Tianyaoqiao Lu
Tel: 6426 6666
Third Degree
3, Zhongshan Dong Yi Lu
Tel: 6321 0909
Yifu Theatre
701 Fuzhou Lu
Tel: 6351 4668

---

Events

There are a number of regular music events scheduled during the week.
Call to verify if they are still on.
Info:
Mon + Sat
Bypass: classical French music with a touch of pop
Third Degree
Tel: 6321 0909
Tues,Wed,Thurs
Arline and Miguel: vocal pop and jazz
Third Degree
Tel: 6321 0909
Wed
Erica Li and the Trop Pop Boys
Club JZ
Tel: 6431 0269
Fri
Night out with Mama
Vocal, Trumpet, Piano, Bass, drums: Jazz+ funk
Club JZ
Tel: 6431 0269
Weekends
Shanghai Symphony Orchestra
Tel: 6437 4685
Sat
Funky Latino Jazz Band
Club JZ
Tel: 6431 0269
Sun
One More Time with coCo
Vocals, Violin, Trumpet, Bass, Piano, Drums: Classic Jazz
club JZ Tel: 6431 0269

---

Festivals
If there is one festival in Shanghai not to be missed, it is the June film festival. Showing hundreds of great, international movies over the course of a week at multi-locations, it's a way to tune back in to cinema and get a refreshing world view. look out for details in the listings magazines

---

Karaoke
Info:
Cash Box
457 Urumqi Road
Tel: 6374-1111

208 Chongqing Road (S)
inside Fuxing Park
Tel: 6358-3888

68 Zhejiang Road (S)
Tel: 6374-9909

Golden Age
918 Central Huaihai Rd
Tel: 6415-8818

PU-J's
Level 3, Jinmao Tower
88 Shiji Dadao Tel: 5047-1234 ext. 8731/8732

---

Live Music

While Shanghai cannot seem to attract many big name stars or bands, it does have a lively music scene. In particular there are several atmospheric jazz venues, with talented, multi-ethnic musicians coming together to share their passion for making music. For local and international acts, The Ark Live House in Xintiandi is perhaps the strongest downtown contender. Irish Folk music can often be heard at O'Malleys.

Info:
ARK Live House Events
No 15 North Block Xintiandi
Lane 181 Taicang Lu
near Huangpi Nan Lu
Tel: 5306 5000 6326 8008

Cigar Jazz Wine (CJW)
House 2, Xintiandi Lane 123 Xingye Rd
Tel: 6385-6677

Golden Age
918 Central Huaihai Rd
Tel: 6415-8818

Ala Shanghai
168 Maoming Nan Lu
btwn Yongjia Lu and Fuxing Zhong Lu
Tel: 6415 2188

House of Blues and Jazz
158 Maoming Nan Lu
near Fuxing Zhong Lu
Tel: 6437 5280


Guaer
30 Huangxing Lu Lane 2012
near Guoding Lu
Tel: 5506 8123 and 5509 0554
Lyceum Theatre
57 Maoming Nan Lu
tel: 6217 8530
Kuna Café & Bar
Lane 169 Taicang Road, Xintiandi
Tel: 6336-1717

M-Box
3/F Peregrine Plaza
1325 Huaihai Zhong Lu
near Baoqing Lu
Tel: 6445 1777
6467 8777

JZ Club Events
46 Fuxing Lu
near Yongfu Lu
Tel: 6431 0269

Patio
56/F
JinMao Tower 88 Shiji Da Dao
near Yincheng Xi Lu
Tel: 5049 1234 ext.8907

O'Malley's
42 Taojiang Road
Tel: 6437-0667/6474-4533

Pudong InterContinental Hotel
777 Zhangyang Lu
near Lanshan Dong Lu


Pegasus
2/F Golden Bell Plaza
98 Huaihai Zhong Lu
Tel: 5385 8187

Tang Hui Pub Events
13 Xingfu Lu
near Fahuazhen Lu
Tel: 6281 5646

PU-J's
Level 3, Jinmao Tower
88 Shiji Dadao Tel: 5047-1234 ext. 8731/8732

The Glamour Bar
7F, 20 Guangdong Road
Tel: 6350-9988

See also Events

---

Movies/Cinemas
While the vast majority of movies in Shanghai are Chinese - either original Chinese films or foreign movies dubbed in Chinese - there is now a growing number of theatres that show movies in the original English. French, German, and Mexican groups also have regular screenings of films in their native languages.
Of course, it is worth mentioning the easy availability of pirate dvds. Appearing just a day or two after cinema release, these films are sold on every street corner for 8rmb each and there are a great many shops, specifically set up to sell English, French and German spoken films to expats. While this practice is illegal, nobody seems to take any notice and it makes for cheap entertainment.
Addresses
Cine Club de l'Alliance Francaise
6F Alliance Francaise de Shanghai
297 Wusong Road
Tel: 6357-5388ext.201

Studio City
10F Westgate Mall
1038 Nanjing Rd (W)
Tel: 6218-2173 ext.244/245

Cathay Theater
870 Huaihai Zhong Lu
Tel: 5403 2980

Shanghai Centre Theatre
Shanghai Centre
1376 Nanjing Xi Lu
Tel: 6279 8663

Golden Cinema Haixing
Haixing Plaza, 1 Ruijin Road (S)
Tel: 6418-7034

Paradise Cinema City
6F Grand Gateway
1 Hongqiao Road
Tel: 6407-6622 ext. 8002/8003

Kodak CinemaWorld
F5, Metro City
1111 Zhaojiabang Lu
Tel: 6426 8181


Mexican Cine Club
9F, 1375 Huaihai Road
Tel: 6437-9585

Super Cinema World at Metro City
F5, 1111 Zhaojiabang Lu
Tel: 6426 8181

---

Nightlife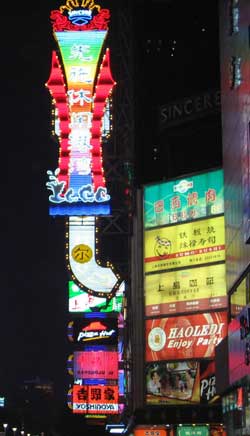 Whether you like minimalist and modern, cluttered and atmospheric, djs or live jazz, Chinese or western inspired, Shanghai knows how to give you a good night out.
And, in such an international city, bars have an electric intermingling of Chinese, Asian, European and American customers.
Every week sees the opening of a new world class venue and the competition is so fierce that there are great bargains to be had almost every night of the week.
These are epitomized by incredible 'drink as much as you like for 100rmb' and '160rmb for wine all night' style deals.
You are especially in luck if you are a woman, as ladies' nights can be found in many of the leading bars, offering free champagne - and we mean real champagne - or cocktails all night.
Generally speaking, beer is 40-50rmb a glass, wine is 40-70rmb and cocktails are 50-70rmb.
t
Addresses
Blue Frog
207-23 Maoming Rd (S)
Tel: 6445-6634

B.A.T.S.Pudong Shangri-la Hotel
33 Fucheng Road, Pudong
Tel: 6882-8888

Bourbon Street
191 Hengshan Road
Tel: 6445-7556

Ark Live House
15, Xintiandi Road (N), 181 Taicang Road
Tel: 6326-8008

Cotton Club
1428 Central Huaihai Road
Tel: 6437-7110, 6473-3182, 6437-1504

California Club
2 Gaolan Road (Lan Kwai Fong at Park 97, inside Fuxing Park)
Tel: 5383-2328

L.A. Disco
4F-5F Golden Bell Plaza
98 Central Huaihai Road
Tel: 5383-8916

Club La Belle
2F 333 Tongren Rd
Tel: 6247-9666/6247-5559

Legend3F
18 Dongping Road
Tel: 6471-9458

Malone's American Café
255 Tongren Road
Tel: 6247-2400

Mazzo (late-night club)
48 Qinghai Road
Tel: 6215-2715

Mei
200 Taikang Road
Tel: 6415-0710

PU-J's
Level 3, Jinmao Tower
88 Shiji Dadao
Tel: 5047-1234 ext. 8731/8732

Real Love
10 Hengshan Road
Tel: 6474-6830, 6474-6831

Ritz-Carlton Bar
2F Portman Rtiz-Carlton Hotel
1376 Nanjing Rd (W)
Tel: 6279-8888ext. 5777

Sasha's
House 11, 9 Dongping Rd
Tel: 6474-6166

The Glamour Bar
No. 5 The Bund, 7/F
Tel: 6350-9988

The Loft at Club Fusion
323 Central Fuxing Road
Tel: 6386-6268

Volcano
200 Taikang Rd
Tel: 5465-1731

---

Publications
The following publications have comprehensive information on events and activities around town. They are available, free of charge, at most bars, restaurants and western supermarkets:
Info:
That's Shanghai
Building 2, 168 Yueyang Road
Tel: 5396-1439
Website

City Weekend
1501 Xinmin Dalou
839 Central Yan'an Road
Tel: 6247-3220
Website

Shanghai Daily
Wenxin United Press Tower
755 Weihai Road
Tel: 5292-1234
Website

8 Days
3/F, 77 Tai An Lu
Tel: 5258 8585

---

River Cruises
Info:
Shanghai Huangpu River Cruise Company
229 Zhongshan No. 2 Road (E)
Tel: 6374-4461
Morning and evening cruises

---

Tickets Online

Due to the huge amoung of credit card fraud, buying tickets online is a relatively new concept in Shanghai, but it is slowly beginning to make inroads in the local community. For now, however, there is no English-language site for the purchase of tickets, and most popular expat events still require you to go down to the venue to buy the tickets beforehand. Some organizations will offer free ticket delivery, however, so do check.
Addresses
Culture Shanghai
(Chinese only)
Website

---