Living with a maid:
selecting and training an ayi in Shanghai


Employing an Ayi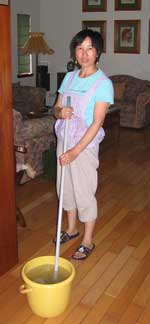 Westerners coming to live in Shanghai for the first time are usually amazed at the easy availability and inexpensiveness of domestic help. But, it is one of the great luxuries of living in Shanghai and most - if not all - westerners employ helpers on a full-time basis
At first, the idea of having someone always in your house can seem strange. The downside is that most ayis don't speak any English, and the ones who do, charge more.
Although the lack of English can be challenging at first, it makes for a good way to learn Chinese and children invariably pick up the language quickly from their ayi. See Communicating with Ayi below for information and resources.
Local maids, called ayis ("Aunty"), are generally paid between 10-18 RMB an hour, about US$100-125 per month, with some expatriates paying double that, plus a Chinese New Year bonus.
At these prices, part-time ayis are quite rare (although not difficult to find if you are willing to pay a slight premium), and families with children or larger houses often have two or three ayis, one for the cooking, one for the cleaning, and one for the children. They generally do not live in, although can do if space permits.

They work 6-10 hours a day, 5-6 days a week, and are usually willing to cook, shop for groceries, babysit in the evenings and come in on weekends to help out with entertaining if required. See e-relocation on helpers' hierarchie!

Ayis usually get off the week of Chinese New Year, as well as at least 3 days over the national May Day and October Day holidays.
They often get time off during your holidays as well, although many will be willing to come in several days a week to dust, water the plants, pick up mail, and generally make sure that there are no household emergencies. Most westerners continue to pay their ayis when they take a holiday.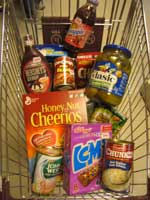 Ayis usually have strong Chinese cooking skills and, if they have worked with westerners before, may well know how to make simple pasta dishes and a few other favourites.
Many expats require their ayis to cook for their children and they may also want a meal or two cooked for themselves during the week. Some people have all their meals, including breakfast and lunch prepared by their ayi. This depends entirely on how good a cook your ayi is and how much you like Chinese cuisine.
See Useful Info from the Office of the Mayor of Shanghai



---

Ayi's Food and Hygiene Rules

Unless told otherwise, ayis will buy vegetables and meat from their local markets. This might not suit your standards of hygiene, in which case go to your preferred supermarket with your maid and make sure she knows exactly what products you want her to buy and cook in future.
The food and hygiene rules on the left may serve as a guideline to avoid misunderstandings and set up a daily routine in the kitchen and which all family members should follow to set an example.
You can access the guidelines in a Chinese translation for your ayi once you search a home with us and qualify for e-relocation Shanghai.
Click the image to view the English version.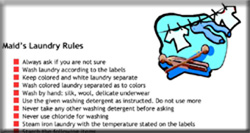 ---

Ayi's Schedule



On day one, sit down with your ayi and work out an entire list of duties and an emergency plan, written in Chinese. Part of this plan might well include giving your ayi a dedicated mobile phone (very inexpensive in Shanghai) so they can be contacted and can contact you at all times.

You can access the schedule left in a translation for your ayi once you search a home with us and qualify for
e-relocation Shanghai.

Click the image to view the English version.

---

Emergency Plan


The emergency plan should include:


What to do if a child in their care has an accident.


Make sure they know who to call, which hospital to take them to and what details to quote. These details will be obtainable from your medical insurance provider.


Who to contact if there is an emergency in the house when you are away.


If you have a pet, the pet should be insured and your ayi must have available the address of your preferred vet.

You can access the above in a translation for your ayi once you search a home with us and qualify for e-relocation Shanghai.

Click below image to view the English version.

Setting these plans out at an early stage will make for a less anxious relationship for all parties.
---


Hiring an Ayi





Ayis in Shanghai are generally local, but there are a handful from the countryside and other provinces. Shanghai ayis may have worked for a foreign family before and understand about how appliances work. They sometimes speak a little English. Their families are in Shanghai, so weekends and holidays can be more important to them.

Ayis from outside the city, on the other hand, go home to their families only during the major holidays (Chinese New Year, National Day, May Day) and although they don't live-in, are very willing to work overtime, weekends and evenings. They may not have worked for a foreign family before, however,

and may require more training. You can access the above ayi interview assistant once for once you search a home with us and qualify for e-relocation Shanghai.

There are three ways of finding your ayi:
Taking over a maid from a former employer (this can be through a neighbour who is returning to their home country)

Maid agency (Shanghai is awash with maid agencies and your real estate agent will help you to locate their preferred agency)

Responding to an ad placed by your ayi (notice boards in western supermarkets are the best places to look. The City Supermarket notice board at the Shanghai Centre is a great place to start)

Nanny Experts
Janine Canham
Website



---

Communicating with Ayi





Since most ayis don't speak English, communication can be a challenge. Some spouses use their working partner's assistants as interpreters, while others take a crash course in Mandarin. Likewise, expats can pay for their ayi to take specific, task-oriented, English lessons.
.

Communication often goes deeper than language, however. It's extremely important that you make clear to her exactly what needs to be done in the household, and how you'd like it done. Your ayi will appreciate this, so do not feel shy.

Show her things as basic as how to operate a washing machine. Even if she has worked in a foreign household before and knows how to operate all your appliances, she will not know how your particular family likes things done.

This can be particularly pertinent in the kitchen where you may wish your ayi to obey your basic rules of hygiene, like washing all vegetables and fruit and using separate knives, boards and cleaners for preparing vegetables, fish and meat. View Food Hygiene Rules


---

Maid Training Classes





See also First Aid Courses
Addresses
YMCA Housekeeping College

123 Tibet Rd (S) Rm 321

Tel: 6326 1040 ext.8929

World Link
Basic First Aid for Ayi

World Link Medical and Dental Centres

Shanghai Centre:

1376 Nanjing Rd (W)

Suite 203 W

Tel: 6279 7688
Hongqiao:
Mandarine City
Unit 30, 788 Hongxu Lu
Tel: 6405 5788



---