Expat Rental Guide:
How to select your apartment or villa in Shanghai

Selecting your Home
Where to live? This is one of the major problems expatriates initially face when moving to Shanghai and to best evaluate your circumstances the following factors, amongst other more personal issues, need to be take into consideration :
International Schools

| | |
| --- | --- |
| | Commute Times |
| | Kindergarten / Junior School / High School |
| | Future Needs |
| | Shuttle buses provided (especially for after school activities?) |
| | see also 'Education' |
Office Location

Transportation
| | |
| --- | --- |
| | Will you have a car & driver? |
| | Will you be driving yourself (due to the aggressive & poor driving habits & standards many multi-national companies forbid their employees to personally drive in China)? |
| | Will your spouse/children need access to a car & driver during the day? |
| | Will you be using public transport (air-conditioned buses, metro or taxis)? |
| | What are your working hours? |
| | see also 'Car and Driving' |
Shopping for Western Products and 24/7 local shops
| | |
| --- | --- |
| | Local stores for milk, snacks, emergency food stuffs |
| | Stores focused on imported foodstuffs or foreign foodstuffs made locally.Many of the huge Western food manufacturers produce well known name brands locally |
| | Opening hours |
| | see also 'Shopping' |

Where are your friends living

Yes, of course you may not know them yet, but even if you don't know anyone here, find out where your future work colleagues live ? If you have friends here already you may wish to live close to them - but not next door


To generalize: families live close to international schools and singles/ couples live downtown or close to stations on the excellent Underground (MRT) lines.
What access is there to 'Green Space'

Either within the housing development or easily accessible parks


If you play golf, tennis, go sailing, horse-riding or other sports - where are these facilities and will their accessibility, or lack of, affect your choice of location?
Access to Hospitals and Clinics

Western clinics offer some advanced services and reassurance of quality, but some of the local hospitals offer high quality medical services too, especially in certain disciplines where some of Shanghai's training hospitals are world leaders. If you are unlucky enough to require an emergency service then you will need to know the time it takes to get there and that they are easily accessed 24/7. If a family member has a medical condition you should live close to a clinic with 24/7 emergency service available.

see also 'Health'
Access to Restaurants and Entertainment



How often do you eat out (you will eat out far more in Shanghai than you ever did at home)?


Is this an important consideration for you? Remember that it is far easier to get around the city late evening/early morning.



see also 'Entertainment'

Airport Access



How often do you need to travel?


Domestic (Hong Qiao + Pudong airports) or International travel (Pudong airport)?


Is a longer trip time to the airport a consideration?

see also 'Public Transport'
ANCHOR PARTNER AD
ELITE 8 CONSULTING HOME SEARCH & RELOCATION
Professional Expatriate Relocations & Real Estate Consulting Services
Innovative, Professional, Caring, Ethical, Quality
Service-driven not profit-driven.
Delivering relocation services to your family that really make a difference.

Pre-Arrival Assistance via Personal Communication & Information Packages
Free Access to e-recloation Shanghai Step-by-Step Relocation Guide with Expat Database and Relocation Management Tools
School Search – Downloadable Brochure, Appointments & Transportation
Expatriate Accompanied Orientation Tours (Medical & City)
Full Home – Search Services (search, contract, on-going 24/7 service desk)
Superb HTML Pre-view Packages sent directly from our Database
Full Shanghai Immigration Processing Services



---

Your Choice: House or Apartment

You might think you know the pros and cons of living in a house or an apartment, but in Shanghai these reasons will probably be very different from that of your home country. We've highlighted them below:
Info: House
| | |
| --- | --- |
| Pros | Cons |
| More space | Lack of central location |
| Easy Socializing (in gated communities) | Loss of privacy; unsupervised play of children. |
| 24 hour Security | Cookie cutter houses - no character |
| Leisure facilities provided - no need to join gym | Quality of facilities and classes may not be up to standard - may need to join one anyway! |
| Architecturally interesting homes in local lanes (historic houses) | Dealing direct with landlord (historic houses) |
| Authentic Shanghai experience - living in a local neighborhood (historic houses) | Isolation from expat community and communication difficulties with neighbors who don't speak English (historic houses) |
| Private gardens maintained by compound staff | Garden muddy and unusable during rainy season; mosquitoes |
| Ease of communication in English | Isolation from Shanghai locals |
| Pet's Choice | Compound regulations regarding times that dogs can be walked and types of pets owned. |
Info: Apartment
| | |
| --- | --- |
| Pros | Cons |
| 24 hour Security | Shared Outdoor Space |
| Leisure & Sports Facilities | Usually less space |
| Easy Socializing | Unsupervised Play of Children |
| Better Location, e.g. more central | Dangerous Windows & Balconies (altitude) |
| Lots of choice of styles (old, new, big, small, characterful) | Can get noise from neighbours renovations |

---

Home Choices

There are a number of choices you have to make when selecting a suitable home for your lifestyle in Shanghai.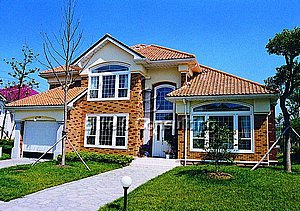 Usually called Houses in the West these may take the form of stand alone (independent units) or semi-detached.

Often townhouses or row houses can be found in many of the same developments, offering access to the same facilities but without the size or cost of an independent villa.
There is limited supply downtown, usually on the small side and aging. One or two newer redeveloped older housing developments are beginning to appear on the market.
Expats who choose to live in local compounds usually select high end local enclaves, usually in the western suburbs. These are also standalone or semi-detached houses with gardens, but facilities are usually not provided and English may not be spoken.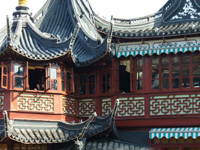 You may be tempted to live downtown in traditional Lane Houses or older independent villas usually from the 1920's and later. These are commonly called 'Lao Yang Fang' ('Old Houses' in local expat parlance). See Housing Market Residential Areas
Some are outstandingly beautiful places, however we advise caution and having a year of two living in Shanghai before being tempted by the romance of this style of living. Although the villas may be beautiful on the outside beauty is very often only skin deep (new plumbing, electrics and waterproofing are only relevant to the boundaries of the property - off your land and probably the electrics and plumbing are decades old).
And, without management to fix your problems (arrangements must be made with the landlord directly), security to protect your family, and friends for your children -they can be difficult and lonely places to live and the neighbors rarely speak English.
But romance lives on and there are some excellent renovations out there! Garden villas are standalone houses with gardens; lane houses are attached on both sides (except for corner houses) to their neighbours, and usually have a small garden, and apartments are in historic buildings. There are no facilities.
Info: Info: Overview of Supply of Independent Villas
Area / Type

Villas

Semi-Detached/


Townhouses/
Lane Houses

Downtown (Puxi)

Modern:poor
Historic: excellent

Modern:poor
Historic: excellent

Modern:poor
Historic: excellent

Hong Qiao (Puxi)

excellent

average

low

Gubei (Puxi)

average

zero

zero

Hu Quing Ping Rd Area (Puxi/Qingpu)

excellent

average

low

Minhang/ Sonjiang/ Qingpu

excellent

average

average

Kang Qiao (Pudong)

excellent

low

average

Long Dong Avenue

excellent

average

average

Lujiazui (Pudong)

zero

zero

zero

Jin Qiao (Pudong)

excellent

good

average
For more specific info on independent villas see Housing Market /Villas in Puxi and Pudong
and visit the property pages of Elite 8
A single building structure that has been designed to house two families. From the outside it looks like a very large single home but in fact has two homes, mirror images of each other. Separate entrances and usually gardens mean this is usually a lower cost option than a single villa home. Not many are to found in Shanghai with the preference being for single villa homes and townhouses.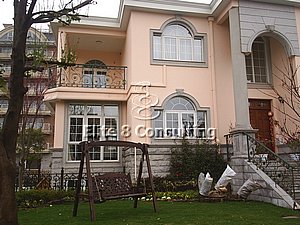 A series of single family homes, joined together in a row to form a single building.

Usually having 3 or 4 floors, townhouses have separate entrances and often gardens too, offering a lower cost option than a single villa or semi-detached home.
Many developments are offering this option as the popularity of having the facilities and living in the green space that a villa development offers, gains in popularity amongst the local affluent population in addition to developer's recognizing that not all expatriate families have large or unlimited housing budgets.
These take many different forms from a small one-bedroom apartment to a huge 4 or 5 bedroom duplex penthouse and rents can run from around US$1,000 for a small unit in a decent expatriate oriented building to US$15,000 for the best Shanghai has to offer. Luxury apartments are popular because of the host of on-site services they offer, from restaurants to post offices, gyms, pre-schools and in some cases, office towers and five-star hotels on the premises.
Located in the expat enclaves of Hongqiao and Pudong as well as downtown, furnished apartments are usually managed by property management services rather than individual landlords, and the buildings include facilities like swimming pools, gyms and playgrounds; sizes range from two to five bedrooms.
Those who want apartment life in the suburbs now have greater choice, as furnished apartments are increasingly an option in Hongqiao/western suburbs and Pudong.

The serviced apartments, which attract singles, couples and families with young children, are probably Shanghai's most comfortable environment for a non-Chinese speaker.
Located in the prime neighborhoods downtown, serviced apartments provide daily housekeeping and are fully furnished, down to dishes and dishtowels.
These usually have facilities that include swimming pools, gyms and restaurants on the premises. Both short and long-term leases are available, with some willing to offer business travelers daily leases. Sizes include studios to four bedrooms.
Note: In a serviced apartment you are going to get a lot less space for your money than in a non-serviced. If you rent a non-serviced apartment you can hire a maid very cheaply in Shanghai who will clean, iron, shop and work 6 days a week. The vast majority are very honest & hard working.
Info: Serviced Apartments Price Range/per month
Prices vary by size, quality and location
| | |
| --- | --- |
| 1 Bedroom | USD 500 - 4,000 |
| 2 Bedrooms | USD 750 - 6,000 |
| 3 Bedrooms | USD 1,200 - 9,000 |
| 4 Bedrooms/Penthouses | USD 3,500 - 18,000 |
See the bookmark on serviced apartments for more information .
Info: General Overview of Supply of Apartments
Area / Type

Serviced

Non-Serviced

Luxury

New

Low-Cost

Penthouse

Downtown

excellent

excellent

excellent

excellent

excellent

excellent

Gubei

poor

excellent

low

good

excellent

low

Hu Quing Ping Rd Area

zero

zero

zero

zero

zero

zero

Minhang


zero

good

zero

good

good

low

Sonjiang &
Qingpu

zero

low

zero

low

low

zero

Kang Qiao

zero

zero

zero

zero

zero

zero

Long Dong Avenue

zero

good

low

low

average

zero

Lujiazui

good

good

good

good

average

good

Jin Qiao

average

good

good

good

average

good
For more specific infos on apartments see
Housing Market/ Apartments Puxi and Pudong
and
visit the property pages of Elite 8 .


Choose a Location
.
Shanghai is a huge, sprawling city, split by the Huang Pu River into two truly distinct areas;
Puxi (pronounced Pooshee) to the West, landmarked by the Bund, is the heart of Shanghai. Immortalised as the Paris of the East, the downtown areas offer the greatest choice of shops, culture and nightlife.
Pudong (pronounced Poodong) to the East, landmarked by the iconic Pearl Orient Tower, was built from Marshland in just ten years. The institutions in this area are the powerhouse behind Shanghai' s booming financial sector.
The districts are connected by bridges, road tunnels and an underground metro system, with travel between the two ranging from 30 minutes - 1 hour. There are distinct advantages and disadvantages to each area depending on your own particular circumstances and lifestyle preferences.
But, fortunately, expats do not face too many choices about where to live as the expatriate communities are broadly clustered into these main areas: Pudong (Lujiazui, Jin Qiao and Kang Qiao), and Puxi (Xu Hui - former French concession), Jing An (former British concession) Lu Wan (where the famous restaurant and commercial area around Xin Tian Di is located) and Hongqiao / Gubei (the 'original' expatriate enclave from 1990 onwards). New 'over-spill' locations such as Min Hang, Xu Jing, Zhu Di Town, Qing Pu and Song Jiang are also becoming popular depending on your circumstances.
Info: Preferred expatriate enclaves
| | |
| --- | --- |
| Type of Expat | Area |
| Single/couple young professionals | Downtown Jing An or XuHui or Lu Wan or Lujiazui |
| Couple with baby/infants | Downtown Jing An or XuHui or Lu Wan or Jin Qiao or Lujiazui or Hongqiao |
| Family with primary school/teenage children | Hongqiao or Pudong (Jin Qiao, Kang Qiao or Lujiazui) or Min Hang, Xin Jing and Qing Pu and Song Jiang. Virtually all schools are located in Minhang / Hong Qiao and Pudong with two or three others scattered around. Kindergartens can be anywhere |
| Senior couple no kids | Downtown JingAn or XuHui or Lu Wan or Lujiazui. For villas Hongqiao / Pudong |
| Frequent traveller | You can get to Pudong airport in ca. one hour from virtually anywhere in the city using the ring roads.  Underground combined with a taxi or Maglev can also be used taking 60 to 90 mins. |

While some geographic areas offer more of a particular type of accommodation - you'll find most historic, colonial-era houses in Puxi (XuHui and Jing An Districts). Most areas do offer a variety of different types of housing. To narrow your choices, read, in this section, our overview of the three main expat communities.

Traffic in Shanghai can be terrible! Travelling can eat up much of your time if you are far from the office, restaurants and bars for making new friends, your children's school or, if you travel alot, the airports.
Residential areas see Housing Market

---

Rental Prices

" Everything is negotiable in China"

We often hear the phrase " Everything is negotiable in China" and to a certain extent this is true whilst referring to housing in Shanghai. However it is not written in stone and there are some obvious issues to consider, especially as you will hear comments from colleagues, friends, hearsay or sometimes complete strangers which people sometimes taken as gospel !
Even good intentioned advice can be wrong or misleading and not every landlord is out to fleece you ! When a rent is negotiated, you should look at your offer through the owner's eyes and you may get a better feel for what is reasonable and what is not.
With rents low in relation to buying prices the owners are not making a huge profit out of you. If you negotiate a bottom rate rent then the owner is less likely to concede to your every request. The most important factors to bear in mind are availability (occupancy rates), demand (are there a lot of foreigners moving into Shanghai), length of lease (landlords would usually like a 2 year lease but not more without an 'escalation clause') and the tenants' (your !) requirements.
Info: What is influencing the rental
Occupancy Rates

If a private owner, when did they buy the unit and what yield are they getting

Will the owner provide a 'Fa Piao' - i.e. an official receipt (non-provision reduces their costs - usually by 5%)

Is te home rented furnished or unfurnished

Location of the particular unit in question.
For villas : prime location in the development, or next to a road
For apartments: which floor is it on (the higher you go the more expensive it becomes) and does it have a spectacular view or look at the block next door
Old Houses: does it have a garden, private parking and is it on one of the most desirable green & leafy lanes in a prime location

The stage a development is in, when you take up a rent:
rentals taken up in a new development often get very preferential terms to boost the occupancy rate of a new development. When you come in at a later stage, you may have to pay a higher rental than the first tenants in the same development.

Length of lease (i.e. the minimum fixed period unaffected by break clauses)

Size of the property

Age and condition of the property

Imported or local construction materials

Local or foreign management

Location

Distance to International Schools

Distance to shops

Distance to Public Transport

Availability of taxis to wave down on the road

Rental Prices Overview: update on the market - courtesy of Elite 8


What do I get for my budget?
Additional Cost
You have to pay your elecricity bill which may be quite high due to the use of air conditioning units in your home. Maintenance such as monthly or bi-monthly chemical treatment of your air condition or the maintenance of the heating units should be included in the lease agreement as being the responsibility of the landlord.
Info: average prices for air conditioning/heating per month
| | |
| --- | --- |
| Average two-story three-bedroom house | RMB 1,500 - 3,000 |
| Average two-bedroom apartment | RMB750 - 2,000 |
See also Cost of Living for energy cost!

---

Rental Conditions

Homes are typically rented out for a one to two year period, with an option to renew in the contract. Renewal prices will be based on current market conditions, very few landlords indeed will allow any caps on increases to be written into the contract.
A deposit equivalent to two months' rent is the standard. A list of agreed-upon renovations and furniture and appliances to be provided should be included in the lease as an attachment; this is useful if a dispute arises.
It is imperative that the contract be registered to protect the tenants' rights - insist that the landlord do so.



---

Home Search Terms
Info:
Service Apartments
Fully furnished to include furniture for bedrooms (beds, built-in closets, side tables), dining room (dining table, chairs)
living room (sofa, chairs, coffee table) study (desk, chairs), curtains,
water heaters, air-conditioning/heating units, appliances and sometimes cutlery & linen.
Will always include maid service anywhere from 2 to 6 days per week, sometimes frequency is negotiable.
Furnished Apartments
Furnished Furniture and appliance packages available from fully furnished to single pieces, as required.
Air conditioning/heating units and water heaters included.
In some cases tenants may select the furniture themselves either by negotiation with the landlord or from a prepared package .
A basic fit-out consists of white goods, light fittings, window dressings, carpets, wooden or marble floor coverings.
The premises should have been freshly painted .
TIP : Check the mattresses for hardness !
Chinese like VERY hard mattresses but softer options are usually available.
Unfurnished
No furniture (or limited furniture); appliances negotiable.
Short-term lease
Less than one year
Standard lease
One to two years
Villa
Standalone or semi-detached house
Compound
Group of houses within a gated community, usually expat

---

Personal Utility Accounts
The utilities will usually be set up by the landlord, or the real estate company, as the procedure is conducted entirely in Chinese. In case you need repairs, or if something is not working, there are emergency numbers to call, but these are staffed by Chinese speakers. In compounds or apartments, the management will make these calls for you; in historic houses, you generally call the landlord or their representative. TIP : Most expatriates working for a multinational company will have their secretary assist in times of need.
The landlord will NOT usually transfer the rights to the utilities / phone to your name. Usually the management will handle the incoming bills and contact you with a notice to pay. However if the transfer to you is made (very rare in Shanghai) then you will need to sign a standard transfer form, and your landlord will submit this, with a copy of the latest bill.
Gas & all other utilities are usually almost always in place when you move in and all you will need to do (or your agent does on your behalf) is check the meters and both parties sign a form agreeing to he meter readings. However, if gas installation is required it will cost 800 RMB, plus a construction and materials fee of 120-180 RMB. Usually the landlord pays for this, but be sure you are clear about this in your negotiations if necessary. Gas installation for a single-family dwelling is usually completed within 10 days.
Info: Documents to submit to the utility providers
| | |
| --- | --- |
| | Household registration certificate or |
| | Home rental certificate/home property certificate |
Info: Important Phone Numbers
Electricity
Telephone
Application / Enquiries for Utilities Account
6439 6460
Appointment for Utilities Turn-on/Turn-off/Meter Reading
6439 6460
Electricity Service and Operations Center (24 hours)
6329 2222
Reporting power failure and street lightings
6329 2222
Gas
Telephone
Power Gas Services & Operation Center (24 hours)
6322 2333
Reporting supply interruption, low pressure and gas leakage
Puxi: 6327 9851
Pudong: 5889 3837
Water
Telephone
Water Supply Interruption
South of the Suzhou Creek: 6258 1414
North of the Suzhou Creek: 6589 8989
Pudong: 5888 7474

---

Step by Step Rental Guide
Info:
Steps
Charges involved
Engage agent
Usually No Fee but beware as some agents are now charging anywhere from 25% to 50% of one month's rent for a successful home-search due to a general reduction in the fees paid to agencies. Check on the terms prior to retaining an agency.
You could also follow the method used by the Multi-National Corporations : ie. retaining one agency will entitle you to additional free services such as immigration processing or orientation & school search assistance - check before hiring.

Search, screen and find your home
No fee

Check home for necessary renovations, redecoration, repair. Negotiate for items required.

No fee
Draft lease agreement in English and Chinese
Prepared by agent. Be sure to have the English translation done by someone you trust, as usually only the Chinese version is valid in court unless the developer has a pre-approved English version lease (very few have). Many landlords / agents usually only the basic standard government lease - this is insufficient for most leases.

Lease agreement reviewed by lawyer

Usually paid for by tenant's company or tenant.
Inventory negotiated and list prepared by landlord or agent
No fee
Lease agreement signed
No fee (unless in the presence of a notary public - not at all standard practice)
Security deposit paid
Security deposit is usually equivalent to 2 months' rent however if an individual is signing the lease as opposed to a corporate entity then it will be 3 months and a guarantee letter may be required.

Lease agreement registered

Usually paid for by landlord. However stamp duty is usually split between the two parties.

Telephone account/ADSL set up

Telephone company fees