Shanghai Tourist Attractions

There are some real must-sees in Shanghai. These are the things that you will do upon arrival or when visitors are in town. First off, you will want to go to YuYuan Gardens in the Old City. This really is a wonderful, atmospheric piece of old China but only if you go during the week and early in the morning. At weekends, the place is mobbed and very stressful.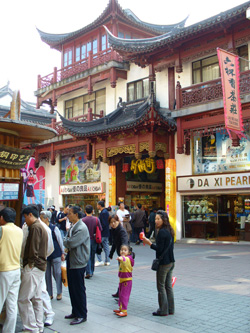 Naturally the historic Bund will be another top-of-the-sightseeing-list outing. Although the view is impressive, the busy, multi-lane highway running along the Bund can be quite distressing.
So, take refuge inside some of the buildings to marvel at the art-deco splendor or some of the new shopping, gallery and restaurant destinations like Three On The Bund.

Bargain hunters will be eager to hit the fake market, XiangYang, on Huahai Lu. But beware, the only real winners here are the stall holders. You need to bargain hard and expect to pay a quarter or a third of their original asking price.
Obviously, much of the merchandise is of dubious quality, but it's fun to go along and see, even if nothing takes your fancy.
See the section Expat Visitor Support for more info on where to find those markets and streets.
For detailed information on Shanghai attractions visit the following websites:

---

Art Scene Shanghai

If you'll excuse the cheap pun, Shanghai's art scene is like an abstract painting - it might not be obvious at first, but if you know where to look you'll find everything you are looking for, plus a little bit more.
While it trails behind the more avante-garde Beijing, galleries are popping up everywhere and the work is of an increasingly high, international standard. At the epicentre is Moganshan - Shanghai's reply to London's Hoxton or New York's meat packing district. Its large spaces in a series of warehouses in an unlikely, out-of-the-way district in the north of the city have attracted big local names like ShangArt, Art Scene and DDM Warehouse to set up shop.
A browse around the complex will reveal that smaller spaces have been taken over by artists who have opened gallery workshops. Some are good, offering original, innovative styles while others, obviously trying to capitalise on an influx of foreign, cash-rich visitors, are desperately bad.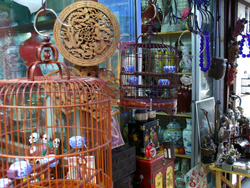 A short taxi-ride away will bring lovers of art, architecture and food to the city's latest - and perhaps most ambitious - gallery, The Creek Art Centre. Originally, a flour mill built in 1902 this atmospheric space offers two floors of galleries, a cafe and top-floor restaurant. Film performances and club nights also feature highly.
In a short space of time, the Creek has leapt to the forefront of the Shanghai art scene and even managed the coup of bringing a collection of Andy Warhol works to town.

If you want cutting edge contemporary, then the gallery for you is the Duolan Museum of Modern Art .
Exhibitions are often curated in a more zappy western-style and the gallery itself has been designed to juxtapose a beautiful, colonial-era - now pedestrianised - street, which houses Shanghai's original film club and cafe. It is well worth a visit in itself. Managed by the same team is Pudong's latest offering, the Zendai Museum of Modern Art which is also worth a look.
No itinery would be complete without visits to the well-curated, top-named shows at the art-deco clocktower that houses the Shanghai Art Museum or, for a taste of contemporary Chinese art, to the always meticulously chosen exhibitions at Studio Rouge. If you are in the area, a visit to Shanghai Gallery of Art at 3 The Bund is a must.
Most galleries in Shanghai are commercial and so do not charge entrance fees. However, municipal galleries like Shanghai Art Museum will charge a small entrance fee as do the Duolun and Zendai.
Addresses: Museums Shanghai
Duolan Museum of Modern Art
27 Duolun Lu

Tel:6587 6901
http://www.duolunart.com

Zendai Museum of Modern Art
Zendai Thumb Plaza
199 Fandian Lu
Tel:6864 5783
Shanghai Art Museum
325 Nanjing Xi Lu
Tel: 6327 2829
Studio Rouge
17 Fuzhou Lu by the Bund
Tel: 6323 0833

Shanghai Gallery of Art

3, The Bund

Jewish Refugee Museum
62 Changyang Rd
Hongkou District
Lu Xun Museum
2288 Sichuan Rd (N)
in Luxun Park
Museum of Ancient Chinese Sex Culture
1133 Wuding Rd
Museum of Public Security
518 Ruijin Rd (S)
Natural History Museum
260 Yan'an Dong Lu
(next to the Bund Center/Westin)
Shanghai History Museum
1 Shiji Ave (in the Pearl Tower)
Pudong
Shanghai Museum
210 People's Square
Addresses: Art Galleries Shanghai
1918 Art Space Events

6 Xiangshan Lu

Hours: 10am-7pm

Tel: 5306 8030

Highlight Gallery

86 Wulumuqi Zhong Lu

Hours: Daily 9AM-9PM

Tel: 5404 5511

A.G. Fine Art Gallery of Shanghai Events

3058 N. Zhongshan Rd
Green Square B-1903

Hours: Tue-Sun 10am-6pm

Tel: 6260 4770

Fax: 6260 6647

Highnoon Art Space

3/F, 1019 Laoshan Xi Lu
Pudong

Hours: Daily 10AM-4PM

Tel: 5887 2314

Annly's Gallery

Lane 7611, Building 68
Zhongchun Lu

Hours: Daily 9AM-6PM

Tel: 6405 8771

H-Space Events

Bldg 18, 50 Moganshan Lu

Hours: Tue-Sun 1PM-6PM

Tel: 6359 3923

Art 4 U

Room 808, 61 Nanjing Dong Lu

Hours: Daily 10AM-9PM

Tel: 6321 8834

La Vie d'Art Gallery

Suite 104, 1111 Huaihai Zhong Lu

Hours: Daily 10AM-9:30PM

Tel: 6433 5393, 6472 6116

Art Scene China Events

No 8, Lane 37 Fuxing Xi Lu

Hours: Tue-Sat 10:30AM-8PM

Tel: 6437 0631

Madame Mao's Dowry

70 Fuxing Xi Lu
near Yongfu Lu
Xuhui District

Hours: Mon-Sat 10AM-6PM, SUN 12PM-6PM

Tel: 6437 1255

Art Scene Warehouse Events

Bldg 4, 2/F, 50 Moganshan Lu

Hours: Tue-Sun 11AM-7:30PM

Tel: 6277 2499

Magazine Events

410 Wukang Lu
near Xingguo Lu
Xuhui District

Hours: Daily 11AM-10PM

Cards: No cards

Tel: 6431 9971

ART50 Events

50/F, 728 Pudong Da Dao

Hours: Daily 6PM-10PM

Tel: 5036 6666 ext 1688

Maison Gallery

2/F, 235 Hengshan Lu

Hours: Daily 10AM-10PM

Tel: 6473 3015

Artsea Studio & Gallery Events

Bldg 9, 2/F, 50 Moganshan Lu

Hours: Daily 10AM-6PM

Tel: 6227 8380

Number D Gallery Creation

2/F, Building 15, Penninsula Garden
1518 Xikang Lu

Tel: 6266 2109

Aura Gallery Events

5/F, 713 Dongdaming Lu

Hours: Tue-Sun 10am-5pm

Tel: 6595 0901

One Xintiandi

Lane 181 Taicang Lu

Tel: 6275 8035

Avant-Garde Gallery Events

1396 Xianxia Lu

Hours: Daily 9:30AM-9PM

Tel: 6290 4725

Propaganda Poster Art Centre

Room BOC, 868 Huashan Lu

Hours: Daily 10AM-3PM

Tel: 6211 1845

BizArt Art Centre Events

4/F, Bldg 7, 50 Moganshan Lu

Hours: Mon-Sat 11am-6pm

Tel: 6277 5358

Room With a View Events

12/F, Xianshi Bldg, 479 Nanjing Dong Lu
next to the Hotel Sofitel on Fujian Lu

Hours: Daily 3-11pm

Tel: 6352 0256

Cang Bo Gallery Events

Unit 2, Bldg 9, Lane 181, Taicang Lu, North Block
Xintiandi, near Madang Lu
Luwan District

Hours: Sun-Thu 11am-11pm, Fri-Sat 10:30am-10:30pm

Tel: 6336 5862

Shanghai Eye Level Gallery

24 Ziyun Xi Lu, Hongqiao Development Zone

Hours: Daily 9AM-6PM

Tel: 6234 0599, 6259 6695

Color Loft

2/F, Bldg 4, 50 Moganshan Lu

Hours: Daily 10AM-6PM

Mobile: 138 1882 0356

Shanghai Gallery of Art Events

3F, Three on the Bund, 3 Zhongshan Dong Yi Lu

Hours: Daily 11AM-11PM

Tel: 6323 3355, 6323 4549

101 Chang'an Lu

Tel: 6380 3547

Fax: 6380 3547

ShanghART Gallery Events

2A Gaolan Lu, in Fuxing Park

Hours: Daily 10AM-7PM

Tel: 6359 3923

D&D Gallery

No 1, Lane 229
Huaihai Xi Lu

Hours: Daily 9AM-9PM

Tel: 6281 5877

ShanghART Warehouse Events

Bldg 16, 50 Moganshan Lu

Tel: 6359 3923

D'Art Gallery

Building 5, 50 Moganshan Lu

Tel:

Shengling Art Gallery

19 Shaoxing Lu

Hours: 10am-7pm

Tel: 6473 7319

DDM Warehouse

3/F, 713 Dongdaming Lu

Hours: Mon-Thu 1pm-6pm, Fri-Sun 1pm-10pm

Tel: 3501 3212

Spaceart Centre

2/F, 200 Taikang Lu

Hours: Tue-Sun 11AM-6PM

Tel: 6472 0312

Degas Gallery

1804 Beijing Xi Lu

Hours: Tue-Sun 12PM-8PM

Tel: 6258 9820

Studio Rouge

17 Fuzhou Lu

Hours: Daily 10:30AM-6:30PM

Tel: 6323 0833

Deke Erh Art Centre Events

2-1, 210 Taikang Lu

Hours: Daily 9:30AM-5:30PM

Tel: 6415 0675

Taiyi Art

Room 101, Haijia Building, 41 Yongjia Lu

Hours: Daily 9AM-9PM

Tel: 6445 1280

Eastlink Gallery

5/F, Bldg 6, 50 Moganshan Lu

Hours: Tue-Sun 10AM-5:30PM

Tel: 6276 9932

The Central Academy of Fine Arts Gallery

Unit 5, 2/F, 123 Xingye Lu

Hours: 10am-10pm

Tel: 6386 6161

Elegant Art Gallery Events

5 Anfu Lu

Hours: Daily 10AM-9PM

Tel: 5403 9942

The Pottery Workshop

2/F, 220 Taikang Lu

Hours: Mon-Sat 10AM-6PM

Tel: 6445 0902

Endless Int'l Art Centre

6/F, 713 Dongdaming Lu

Hours: Daily 10:30AM-5:30PM

Tel: 6595 4007

Torana House and Gallery Events

339-15 Changle Lu
near Xiangyang Lu

epSITE

B1, Benetton Building
651 Huaihai Zhong Lu

Hours: Daily 10AM-9PM

Tel: 5306 7711

Unique Hill Studio Events

Hours: Tue-Sun 11:30AM-5:30PM

Tel: 700 210 111 800

Espite Gallery Events

1F, 651 Huaihai Zhonglu

Tel: 5306 7711

Vanguard Gallery

3/F, Bldg 21, 50 Moganshan Lu

Hours: Tue-Sun 11am-6pm

Tel: 6299 3523

Mobile: 138 1880 9355

Hands in Clay Pottery Studio Events

No 1, Lane 210, Taikang Lu
near Ruijin Lu

Wanfung Art Gallery Events

80 Caoxi Bei Lu
Bibliotheca Zikawei of Shanghai Library

Hours: Daily 9:30am-7pm

Tel: 6487 4072 ext 107

Hanmo Spring Gallery

No 5, Lane 209, Nan Chang Lu

Hours: 10am-9pm

Tel: 6473 7578

---

Parks Shanghai
Only too often, newly-arrived expats and visitors will point the finger at Shanghai saying it has no parks. This is simply not the case - it has plenty of parks, many with great children's play areas, but you have to know where to find them.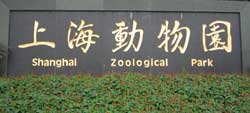 Within Shanghai itself, you will discover that this city does indeed have beautiful parks, presented in many shapes and sizes, each with its own distinct character and usually only a short metro or taxi ride away.
Here, an hour spent watching the tai-chi practitioners can be tonic enough to revitalise flagging spirits.
Expats tend to use Fuxing, Xujiahui, Century, Zhongshan and the Zoo Park in Hongqiao the most as these are large but easily accessible by taxi or metro and, unlike almost every green space in Shanghai, they allow people to walk on (designated areas of) grass. Here is the low-down;
Fun Dazzle (indoor)
Best known among expats with younger kids for its huge indoor children's playground, Fun Dazzle, this spot is a real winner on rainy or very hot Sundays. Children get to run around the maze of climbing frames, tubes, slides and swings in complete safety.
Zhongshan Park
(Entrance on Changning Road open 6am-6pm)
But the park has a lot more to offer. And, after the thumping music and frenetic pace of Fun Dazzle, a gentle walk around the park will reveal beautiful, tree-lined avenues and gardens of mature Japanese maples set against picturesque pagodas. There is a large field for picnics or kite flying, a waterway for boating and various other child-oriented activities like bumper cars and sky-cycling.
Xujiahui Park (Zhaojiabang Lu)
A break from the relentless crowds of the Xujiahui shopping malls, this compact park has been expertly landscaped to create a sense of peace, with an overhead walkway and waterway system. There is a beautiful colonial-era café/restaurant called the Red House, a popular basketball court and an adequate children's playground. Beware, the child's playground has no shelter and so can be blisteringly hot.
Fuxing Park (Gaoan Lu by Sinan Lu)
Although not that large, Fuxing Park was laid by early colonial settlers and so is mature and well planned. There is a good children's funpark with rides and a bouncy castle and a playground with slides. It's a popular spot, due to its location just off Huaihai Lu and there are many eating places both inside and just outside of its perimeter.
Century Park (Jinxiu Lu by Shiji Dadao)
Shanghai's largest green space, this Pudong-based park has got it all and you get a great sense of being away from it all. On the downside, the park is newly planted and so the trees are a little short and scrubby. There are not many places where children can walk on the grass without having a whistle blown at them by the numerous security guards.
On the plus side, kids and adults can hire tandems, bicycles and pedal cares and there is a wildlife park, picnic grounds, rollerblading track and even a miniature golf course. The children's playground is excellent!
Shanghai Zoo (Hongqiao Lu)
While the zoo itself is not the kind of place you would want to take children, unless you want them to see distressed animals being taunted, the park inside the zoo is wonderful. You can stroll for hours and the kids can have a run on the grass. In terms of space, maturity and feeling of being away from it all - this is Shanghai's best.
Other Parks

Other centrally located parks worth a visit for their first rate playgrounds and sense of beauty are Jing An and XiangYang.
See also Living in Shanghai with Children
Info:
Park Info:
Location
Metro
Century Park
Daily from 7am to 6pm
Admission: RMB10
1001 Jinxiu Lu
Shanghai Pudong District
south entrance at Huamu Lu
next to Metro station

Century Park
(Shiji Gongyuan)

Chang Feng Park
Daily from dawn to dusk
Admission: RMB2


25 Daduhe Lu
Shanghai Putuo District

Fuxing Park
Daily from 6am to 6pm
Admission: RMB2


off Fuxing Zhong Lu
Shanghai Luwan District
West: Gaolan Lu
North:Yandang Lu
Southeast: Chongqing Nan Lu

Huangpi Nan Lu
Gongqing Forest Park
Daily from 6am to 5pm
Admission: RMB2
2000 Jungong Lu
Shanghai Yangpu District

No metro
Jing An Park
Daily from early morning until late
at night
Admission: RMB2
1649 Nanjing Xi Lu



Jing An Metro Line 2
Jing An Temple
Lu Xun Park
daily from dawn to dusk
Admission: RMB2


146 Dongjiang Wan Lu
Shanghai Hongkou District
Line 3 Hongkou Football Stadium

---

Information and Hotel Reservation

---