Shanghai: Living in a Lao Yang Fang:
an experience of a lifetime

Historic Houses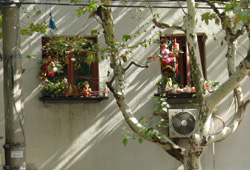 Every morning, the first thing I hear are the bells of Shanghai: the bells of itinerant peddlers, riding up and down my lane, calling out for people to bring their used clothes, paper, to come and have their knives sharpened, or buy sweet oranges. I love that sound, because I know that I'am in Shanghai.
I'am reminded of my exotic home by the sounds of the street, and by my house itself. I'am one of the lucky ones who lives in an old Shanghai house, a historic lane house built before 1949.
Mine is a three storey walkup built in 1937 in the Tudor style, with plenty of space, lots of interesting architectural detail, and a garden, right in the middle of the city.
It is such an atmospheric house, with high ceilings, beautiful light and gorgeous woodwork. We've furnished it with old Shanghai furniture as well; it seems blasphemous to do otherwise! And on a practical note, we're lucky in having a very well-built old house, with hardly any problems. Not everyone is so fortunate.
We're the only foreign family on our lane, and although our Chinese is just minimal, the neighbors are wonderful. The kids all play together in the lane; our kids teach the neighbors baseball, they teach us all sorts of things! They worry about us - when I left my keys in the door one night, they kept them safely for me, and returned them in the morning with a lecture!
But of course, there are challenges to living here. Because we don't speak much Chinese, household maintenance was a problem at first. We had to call the landlord, who would call the repairman, who we couldn't communicate with. We slowly built up a list of repairmen and maintenance people so that our maid could call direct, and with the help of the Shanghai Historic House Association (tel: 13701682037) we also assembled a group of workers who were sympathetic to old houses and didn't destroy them! Arranging play dates for the kids takes a little more effort, since they can't just walk outside and find their school friends, as they would in a compound.
On balance, though, we wouldn't live anywhere else, and we know that when we leave Shanghai, living in this historic house will have been one of the high points.

View Property Market Shanghai and Property Search

Visit the Rental Guide for expatriates



---