Explore the Region :
Escapes from urban Shanghai

Introduction

You'll quickly realize that Shanghai is not China. There is a vast wonderland out there of ancient cities and small villages, beach resorts and holy mountains waiting to be explored. And, as an expatriate with a Shanghai base, you're in the perfect place to do it.
It's important to remember that the rest of the country is less used to foreigners and more conservative than Shanghai. You will get plenty of stares - even stop traffic - and some hotels may not allow you to stay if they are not official foreigner-designated hotels.
Note, also, that far fewer people will speak English and always carry your passport even if you think you won't need it - you can bet you will. At the very least you will need it to book into a hotel.
Further afield, Shanghai expats love being well connected by plane to Bali, Thailand, Tibet, Malaysia, Hong Kong and Japan, where great deals can be had. See also our sister website for Malaysian dive spots.

For Travel Agencies and Arlines see the Shopping Directory


Travel Documents

Inform yourself about Customs Immigration and Quarantine Procedures. Do you need a visa? Plan 2-3 weeks ahead!
!Remember that although Hong Kong and Macau are part of China, they are governed under the principle of `one country, two systems', meaning that if you are from a country that requires a visa for either Hongkong or Macau, you will need to get one - China visa notwithstanding.

---
| | | |
| --- | --- | --- |
| Month | Day in 2010 | Occasions |
| January | 1 | New Year's Day/Chinese New Year |
| February | 13 - 19 | Spring Festival |
| February | 23 | Lantern Festival |
| March | 8 | International Women's Day (half day for women) |
| April | 3-5 | Tomb-sweeping Festival (Qingming Festival) |
| May | 1 - 3 | International Labor Day |
| May | 4 | Youth Day (hald day for youth above 14 years old) |
| June | 1 | International Children's Day |
| June | 16-18 | Dragon Boat Festival |
| July | | |
| August | | |
| September | 22 - 24 | Mid-Autumn Festival |
| October | 1-7 | National Day |
| November | | |
| December | | |
Info: Travel Publication
Shanghai Voyage (monthly)
1882 Yanan Rd (W)
Tel: 6270 1202
See also the Book Section


---

Travel Warnings and Quarantine Information




Travel Transportation

See Airport Information and Public Transport.
Info:
| | |
| --- | --- |
| Flight information / Pudong Airport | Tel: 3848 4500 |
| Flight information / Hongqiao Airport | Tel: 6268 8918 |
| Ferry Booking Service | Tel: 6326 1261 |
| Shanghai Railway Station | Tel: 6317 9090/6354 5358 |
| Shanghai South Railway Station | Tel: 6404 1317 |

Eco-tourism is relatively new in Shanghai, which makes the few spots in the area all the more spectacular! Because it is new, it can be rugged travelling, although Chongming has a decent four-star hotel and Sheshan has acceptable accommodation as well. Bottled water and snacks are sold streetside, but it's a safer bet to bring your own food until you figure out whether you like Chinese snacks or not!
Info:
Chongming Island
Ferry from Baoyang Port to Nanmen Port in Chongming, about 1/2 an hour.
Tel: 5612 2081, 5612 2080
Sheshan Forest Park
Eastern hill of Sheshan, 30km southwest of Shanghai, hire a taxi for the day to take you there, wait for you, and bring you back..

---

Shanghai's concrete jungle stirs the need for a little wildness, whether its a campout on nearby Chongming Island, climbing one of the sacred mountains, or venturing into the region, where you can climb Mount Kinabalu, dive in Malaysia or Thailand, and trek in Tibet.

For more information visit our sister website www.entersingapore.info and view the section tourism and travel

Just two and a half hours south by train or a two-hour road journey, Hangzhou is easily Shanghai's favourite getaway spot. With its cultural relics now restored and preserved, Hangzhou is renowned as one of the six famous ancient capitals of China.
But, it is not the coast that attracts millions of visitors each year it is the picturesque West Lake (Xihu) and Lingyin Temple. Here, steeped in past, glorious associations of famous emperors, poets and painters, visitors can wander around the lake or hike into the tranquillity of the hills.

Some say that the new, Xintiandi-style lakeside developments have led to an over-commercialisation of the area with top name fashion outlets and international restaurants now competing with the scenery for visitors' attention.
Unfortunately, its popularity is also its downfall and if you are looking for peace and quiet do not go in the summer. Wait until the winter months and you will experience the place at its best, the lake misty and atmospheric.
If you have a car and driver, he will be able to whisk you down the highway in a couple of hours. For others the most popular method of getting there is by train from Shanghai Railway Station. Return tickets are cheap at around 50rmb for a soft-seat return.
Alternatively tourist buses also run several times a day from the Xujiahui Bus Station on Zhaojiabang Lu. If you plan to stay over for a weekend - and you really should to make the most of it - there are several international style hotels offering great weekend packages, often including breakfast and dinner. Avoid the centre of Hangzhou, it is just another disappointing, multi-million-populus, high-rise sprawl.

---

Suzhou

The so-called 'Venice of the east', Suzhou, was praised by Marco Parlo as "paradise on earth". It is a moated, canal city where there is still a fair amount of classical and traditional Chinese building styles and designs. As such, it is right up there alongside Hangzhou as one of China's leading tourist destinations.
The remaining 25 classical gardens of Suzhou embody the harmonious principles of Chinese garden construction, dictating that gardens should attempt to create a microcosm of the universe in a confined space.
Amongst the most charming are the Garden of the Master of the Nets and the Humble Administrators Garden. If you avoid weekends and the infuriatingly busy summer tourist season, the intimate gardens are particularly pleasant on a misty day and Suzhou's narrow streets and lanes can offer a little taste of romance.

Tiger Hill, accessible by taxi for just 15 yuan from the train station, is a great spot to explore and spend a lazy afternoon in a historical setting. But, it really is at its best in the early evening when the sun is going down and the streets are emptying.
Sixty miles northwest of Shanghai, Suzhou can easily be reached on the Nanjing Express train that departs every hour from the Shanghai Railway Station. The journey takes around 70 minutes and return tickets cost 50rmb.
Coaches also leave hourly from Xujiahui Bus Station. Journeys take 90 minutes. If you fancy a weekend getaway, there are plenty of accommodation options including the five-start Sheraton and atmospheric Bamboo Grove.

---

Qingdao

For a long weekend break, you'd be hard pushed to beat Qingdao, an hour plane ride from Pudong or Hongqiao airports. A little over half way between Shanghai and Beijing, Qingdao is a former German Concession, which nestles on a pretty coastline.
The Germans left legacies of architecture, much of which still stands in the Ba Da Guan area even though it has been woefully neglected, and beermaking.
Hence, it is home to China's biggest beer brand, Tsingtao. Modern Qingdao is an ugly mess of ill-conceived buildings set against a population of 7-8 million - so, close your eyes and head straight for the coastline around Ba Da Guan.
Qingdao is to play host to the 2008 Olympic sailing sports events and so has attracted millions in investment. This has been wisely spent on building a beautiful, landscaped boardwalk around the five main beaches.
With the mountains of Laoshan setting a magnificent backdrop, the clean, sweeping beaches, the misty islands in the sea, gorgeous hillside parks, pagodas in the distance and strange German castles rising out from the treetops - walking in Qingdao can be sublime! Certainly, it is one of the most magical spots in China.
All major water sports are on offer at bargain prices, including sailing and windsailing. Lessons are cheap and professional. Head to the Qingdao Sailing Club café for details.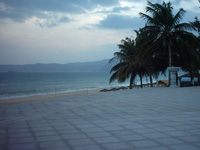 Swimming is safe and pleasant in summer and, with the Tsingtao Beer Festival kicking off every August - it's a great place to head to escape Shanghai's unbearable heat.
On the downside, Qingdao is lacking in good restaurants so head to five-star hotels for fantastic buffet deals or eat at one of the many Japanese restaurants.
Three-night weekend breaks in faded five-star hotels come in, including flights and taxes, at around 1,500rmb per person. These can be booked from all major travel agents in Shanghai. Check the listings magazines for English-speaking tour operators.
Make sure you try to book a room with sea views, as this will be an extremely welcome tonic from the concrete of Shanghai.



---

Renting a house in Bali together with friends is a nice option as there is more space and it is less formal than in a large hotel. It is advisable to rent a car (and for the first few days a driver) to get around.

---

Thailand

---

Tibet
For many China expatriates, a trip to the mountain kingdom of Tibet, the roof of the world, is one of the highlights of their China stay. Note that travel to Tibet is highly controlled, and only group travel is permitted.

---