Dining local in Shanghai: Chinese live to eat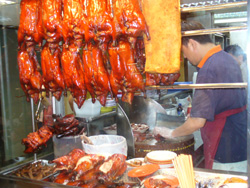 Exploring Chinese regional food is one of the delights of living in such a large city, with just about every well-known and not so well-known national cuisine being represented.
Wildly diverse within itself, all Chinese food varies enormously from western cuisine in several key ways. For a start, the Chinese will eat every part of an animal, especially the offal, with tripe, organs and tongues featuring heavily on menus.

Most strikingly, cuts of meat are very different, being much smaller than you are probably used to and always containing bones which the Chinese like to chew and crunch.
This can be quite off-putting at first but it does ensure that the meat doesn't dry out.
Tasty street food is to be found for just 1 or 2rmb almost everywhere in Shanghai. Especially popular are the steamed, filled buns, called Boazi, or the famous xiao long bao dumplings which are filled with pork and a broth made from gelatine. They're eaten dipped in brown vinegar. Immigrants from the countryside bring in many other favourites like squid or pork barbecued kebabs.
See here for international dining in Shanghai

---

Shanghainese
Shanghaianese food is sweet - typified by the dish of braised, fatty pork cuts covered in a heavy, unctuous brown sauce. MSG is king in Shanghai (see also food allergies) and garlic and fresh herbs are not widely used to flavour food.
Delicate vegetable dishes like snow peas, soy beans and lily bulbs can feature heavily as can sweet and sour Mandarin fish dishes with pine nuts.
Dishes like the seasonal hairy crab or stinky tofu must be tried. A meal for four with beers is unlikely to exceed 250rmb in most middle-end restaurants. Shanghai Uncle (211 Tianyaoqiao Lu by Nandan Lu 6464 6430) and Yuan Yuan (201 Xingguo Lu by Taian Lu 6433 9123) will provide you with great inroads into classic Shanghai cuisine.


---

Cantonese
Cantonese, otherwise known as Guangdong, cuisine is incredibly popular in Shanghai. This is the food of Hong Kong and Guangzhou. It relies on fresh ingredients being cooked quickly in a wok or steamed.
Dim sum is the name given to a brunch feast of small, fresh dishes of dumplings, pancakes, soups (called congee), noodles, braised ribs, chickens' claws (as in chicken's feet) and pastries. If you have never tried dim sum, you will be amazed by the variety of dishes and cleverness of the presentation. It is particularly popular with families who go together on Sunday mornings.
Other Cantonese classics include seafood and king prawn dishes, the ever-popular lemon chicken or black-pepper sauce and lots of varieties of bean curd (tofu). Great tasting too are minced chicken wrapped in lettuce and beggars chicken.
Seasoning can be a little bland but garlic should feature highly, especially with wok-fried vegetable dishes. Crystal Jade (Xintiandi 6385 8752) offers authentic dishes, including hand made noodles, in a modern, stylish setting. There are many English speaking staff on hand to make recommendations and it is unlikely that you will spend more than 500rmb with a good bottle of wine and several dishes.

---

Sichuan and Hunan
Regions offering cuisine that is most definitely not bland are Sichuan and Hunan. If you like it spicy, the dishes from these regions will have you reaching for your beer time and time again as the fiery chilies get to work on your senses. Sichuan cuisine goes a step further by mixing chilli with pink peppercorns - the end result is a little like taking a mild anesthetic. While it might not sound so tempting - this style of cooking is adored by expats.
Perfectly balanced, sweet, sour and spicy flavours combine to make classics like hot and sour soup or fish with sliced beef in chilies and peppercorn oil. For an authentic taste, you will be hardpushed to beat Pin Chuan (47 Taojiang Lu by Wulumuqi NanLu 6437 9361) or South Beauty (6445 2581), just a few doors down. Once your Chinese skills are adequate, you may wish to search out local haunts offering even spicier, intra-regional variations.

---

Dongbei

Dongbei cooking, from north-eastern China offers something altogether different. Here, meat features highly, with lamb, donkey and mutton served in rich, oily sauces being popular. Most dishes will be heavily seasoned with spring onions and garlic. Peking Duck is the regional classic and is served with great ceremony, with the skin sliced and eaten with pancakes first, then the meat is carved and served, and finally the carcass is taken away to be made into a soup.

Dongbei is also famous for its delicious jiaozis, which are filled, fried dumplings. Shanghai is blessed with several Dongbei Ren restaurants (1 Shanxi Nanlu by Yanan Zhonglu 5228 9898) offering fantastic value for money, friendly service and bright, striking interiors. Try the Snow beer as a great accompaniment to your food. Meals are substantial and you will be hard-pushed to spend more than 100rmb.

---