Books and Media:
Reviews on Business and Career Books


Business and Career in Asia
Expat Entrepreneur: How To Create and Maintain Your Own Portable Career Anywhere In The World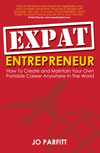 Going to live in a new country can be the catalyst for a sea-change in your career. Opportunities that existed in one country may dry up in another. Sometimes it makes sense not to pursue one single career path but to adopt a shifting, growing, portfolio of portable careers.
Section 1 arms you with practical advice on how to choose a business idea that works for you and how to develop the right mindset.
Section 2 shares the remarkable stories of more than 23 international entrepreneurs as they share how they've maintained and built rewarding, portable careers in all four corners of the world.
Section 3 provides extensive links, resources and tips for expatriate entrepreneurs living in 35 countries
If you are considering working for yourself in a foreign land then this inspirational guide belongs in your suitcase, wherever you may be, wherever you may go and whatever you may hope to become.
A Career In Your Suitcase 2: Everything You Need For A Career On The Move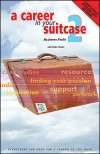 Anyone who hopes to continue working despite frequent relocations must be flexible, patient, inventive and proactive. A portable career often needs to be modified if it is to suit each location. The tools we need to be able to reinvent ourselves are available to all of us. A Career In Your Suitcase 2 will help you to access them.
Described by reviewers as 'the best thing she has ever written' and 'an illustration of the incredible family of support that is out there' this is Jo's definitive manaul for the 'trailing-spouse' or 'wandering entrepeneur'.
---
'Find your passion'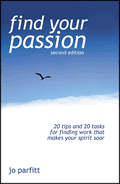 The key word here is 'Passion'. 'Find Your Passion' encourages us to face our deepest desire and work with it. And passion is why Jo has written this book. Passion for her own career 'overflows' onto the pages - she wants you to succeed and, what is more, she believes you can do so. And, if anyone knows how to grab passion and use it, it's Jo Parfitt- you only have to read her own story to realise that.
20 tips from personal experience help us discover our hidden potential and the accompanying tasks help to unleash it. The steps build up gradually, from gently uncovering 'What Matters?' to you, to writing it all down and making sure you're right.
For each small step there is an exercise, providing spaces for the reader to jot down their progress. The group of 'Case Studies' lets us see the success stories. Each person in this section has made a living from doing what they love- just what the book is about.
The 'Passion' is infectious, and the process involved is quirky yet directional. Without a doubt, this book offers advice for those who truly want to develop their potential, written by a woman who has done just that.

Praise...

"Jo's sheer drive and enthusiasm are irresistibly infectious. Watching her achieve her aims inspires me to tackle and achieve mine – whatever they may be. Jo never laughs at mad ideas – she knows they work and how to run with them! Passion and Parfitt are simply synonymous!"
- Jane Minshall, Editor, Embrace Magazine
---
Managing International Business in China
With the rise of China in the world economy, investors from all over the world are moving to explore business opportunities in this market. Managing international business in a transition economy like China is a daunting challenge. Tian presents a practical guide to major managerial issues faced by foreign investors in the China market including strategic management of Guanxi, entry mode selection, alliance management, negotiation with Chinese partners, human resource management, marketing management, protection of intellectual property rights, and corporate financial management. These issues are analysed in the light of relevant theoretical models of international business, with reference to current management practices of transnational corporations operating in China. With up-to-date case studies on management issues faced by transnational corporations in China, questions for discussion and recommended readings at the end of each chapter, this book can be used as a textbook for postgraduate programmes in international business or other management disciplines, and as a textbook for executive training programmes.
---
Billions: Selling to the New Chinese Consumer

This book attempts to crack the code of marketing to the New Chinese Consumer - all 1.3 billion of them. With a wealth of experience behind him, the CEO of an international advertising agency believes that some of the world's leading brands come to China with ideas of how to apply Western thinking to the marketplace, but this does not work because the Chinese consumers are different. In his book, Tom Doctoroff delves into the psyches of contemporary Chinese consumers to explain the importance of culture in shaping buying decisions, uncovers the drivers of behaviour and preference in key market segments, provides tools to help readers gain insight into the fundamental motivations of Chinese consumers, and reveals the pitfalls that many multinationals may encounter.
---
The Art of the Deal in China, A Practical Guide to Business Etiquette and the 36 Martial Strategies Employed by Chinese Businessmen and Officials in China
Both light-hearted and deadly serious, this book offers advice and insights to Westerners hoping to negotiate deals in China. Anecdotes and discussion of the well worn principles set out in the classic works of Sun Tzu are used to shed light on appropriate etiquette and on the often labyrinthine process of dealing with Chinese businessmen and officials. With glossary and historical notes. This book first appeared in hardback in 2003 as When Yes Means No! (Or Yes or Maybe).
---
Culture and Management in Asia

It is obvious that business and management styles as well as other social and cultural patterns vary from country to country. Each of these interrelated and referenced expert papers discusses the historical background and business and management structures and mores in one of 13 Asian countries. Many insights are offered for managers and students onto the internal and external pressures and changes being faced in each of these national economies.
---
Singapore Banking & Financial Services Directory 2005/2006
The 2005/06 Directory of Singapore Banking and Financial Services is a useful listing of the location and contact detail of banks, financial institutions, stock broking firms, asset/fund managers, insurance companies and firms supplying support services which function in Singapore and or are based in Singapore.
---
Made in China: What Western Managers Can Learn from Trailblazing Chinese Entrepreneurs

In this book based on extensive research and illustrated with case studies, the author profiles 8 formidable homegrown ventures in China to reveal the secrets behind their success. These firms demonstrate something in common - the will to respond quickly to changes in an uncertain market and the ability to seize opportunities where they arose.
---
Coaching Across Cultures


Mckinsey and and Deloitte Touche are two companies to have discovered, after much internal research, that the provision of business coaches is one of the best ways to retain and motivate their employees. Yet, today's increasingly global economy dictates that the best coaches should also have the ability to add intercultural understanding to their coaching. Philippe Rosinski can claim to be an expert in the field of coaching across cultures and he was the first continental European to be designated Master Certified Coach by the International Coach Federation. During the last ten years his goal has not simply to create a coaching model that crosses cultures, but that forms solid bridges not only between cultures but also between coaching and interculturalism. He is determined that these two professions, coaching and interculturalism, appreciates the importance of the other.
Rosinski's own clients: Unilver, IBM, Baxter Healthcare and Chubb Insurance are proud to be associated with this book and willingly allowed examples from their work with him to be included. Clearly passionate about his topic, the author appears determined to make the reader understand why this matters, where coaching comes from and the huge difference it can make to a business. Throughout the book he provides explanations, techniques and a variety of solutions that he has developed and worked with, such as the Cultural Orientation Framework, teaches the Global Coaching Process and uses the Global Scorecard.

This clearly written book is a serious read. It is thoroughly researched, detailed and fairly academic. It bursts at the seams with examples, diagrams and case studies. Drawing on areas from Transactional Analysis to Neuro Linguistic Programming, it appears that no intercultural stone has been left unturned.
---
The Complete Guide to learning a Language


Gill James has over 25 years experience teaching languages both in schools and privately. As a language student and teacher she is aware of the difficulties associated with learning a language and how easy it is to be discouraged. After so many years Gill has developed ways of making language learning easier. In chapters entitled 'Talk the Hind Leg off a Donkey', 'Go Native' and 'Eyes Wide Open' Gill outlines her strategies for success. One method suggests becoming a language 'Magpie' collecting bits of language which appeal to you. Key phrases, sayings, expressions all lend themselves to borrowing. The book urges you to develop 'Petwords' and use them frequently in a confident manner even if you are not sure of the rest of the sentence. Through the 13 chapters Gill covers everything you might need to know from choosing a course to going native. Each chapter starts with a mission plan and explores how to achieve this in manageable, bitesize chunks. Handy tips to maximise your learning are scattered throughout the book and recapped at the end of each chapter. A series of appendices provide addresses and websites which aim to encourage the reader to persevere with their efforts. Whilst not groundbreaking in its treatment of the subject 'The Complete Guide to learning a Language' provides sensible suggestions for making language learning accessible and fun, even for the terrified.
---
The Cultural Imperative
Global Trends in the 21st Century


The author is widely considered to be one of the world's most renowned interculturalists and linguists and is perhaps best known for his bestselling When Cultures Collide. This time, Lewis is back to explore a range of questions that arise from our increasing globalisation. Will globalisation lead us to a bland and uniform cultural landscape dominated by a unified global perspective? Will culture continue to drive our human behaviour? This book explains why cultural traits are not going to wiped out that easily. Discussing the specifics of three types of culture, that he calls linear-active, multi-active and reactive, he goes on to explain why our 'cultural spectacles' are tinted by our beliefs and biases. Published post September 11th, Lewis goes on to discuss extremism and terrorism, Western cultural myopia and Moorish values.
---
CVs for Dummies


The average person stays with their current employer for just three and a half years. With this in mind, having the right CV is vital. An essential book for hectic modern lifestyles, it cuts through the jargon making CV preparation a quick and straightforward process. Avoid costly agency fees by using this book, which contains all the same advice. Learn how to display your skills and assets in the right light, put the right spin on any gaps and blunders from your career past and even create an email version of your CV. Find a number of sample CVs, learn about PDF versions as well as how to include the right keywords in your CV so that it can be found by the search engines. A thoroughly modern approach to a traditional jobsearch tool has now entered the 21st century.
---
Authentic - how to make a living by being yourself


I have long believed that if you want to create a sustainable career, then you need to find your passion. You need to know who you are and what you truly love to do in live. Being authentic at work is another branch of this same train of thought. Neil Crofts recently took a leap of faith when he decided to quit his job as Head of Strategy at Razorfish and start his own online magazine entitled Authentic Business which can be found at www.authenticbusiness.com. The idea was a hit and today the authentic brand has a design company, a PR company and is soon to move into venture capital. Crofts walks his talk. His book may make some readers baulk at his prescriptive ideas, suggesting that readers might like to question how authentic they are being in their marriages, their nutrition, friendships and exercise as well as business. Nevertheless it is a wake up call and a well researched, very useable wake up call at that. There are plenty of ideas to make you identify what is your 'natural language' and your 'point'. But beyond the sometimes painful nitty gritty of finding your authentic self, Crofts substantiates his beliefs by citing case studies of a range of successful authentic businesses, including Innocent, Cafédirect and Yeo Valley. This is a read to be taken seriously. A kind of 'find your passion' for grown ups.
---
Communicating Across Cultures


A highly accessible and useful book that explains how to communicate with people of other nationalities. More than a book about body language, it explains how culture, values, awareness, respect and flexibility allow us to communicate effectively and without offence. To do business in another country you need to 'learn the rules', say the authors. Packed with anecdotes, this is not a book just for academics and interculturalists, but for everyone. Find out when to address someone by his first name, whether to be punctual and if it is acceptable to make cold calls. The authors are speakers and authors in their own right as well as having personal experience of expatriate life and work. Together they run their own company , 4C International.
---
'Expat Writer- Release the book within'
Jo Parfitt
Bookshaker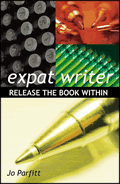 Unlike all the 'self-help' guides out there claiming to change your life, this one seems to genuinely care about doing so. Jo Parfitt is indeed the one to help you  'Release the book within'- she is an advocate of the ability to get by simply by believing in yourself, and truly trusts in the power of her words.
This is a recipe book- the 'Book Cook' helps you gather and mix all the ingredients to become a published author. Starting at the bottom, we first heat up our mental ovens as it were, by asking simple questions- 'Why do you write?' 'Why do you read?' The subtitles are sparky and fun, prompting personal commentary from Jo and advice that comes from experience. And there are exercises too.
We work our way through 'Discovering your voice' and using it, taking small steps all the time. There is not a literary technique skipped.
Jo's expertise in the field comes through in her advice for the fully cooked books. From setting deadlines to self-publishing, no stone is left unturned. There is even a section on 'making extra money'. From pre-heating to digesting your work- this book provides a step-by-step plan to help you do it to the best of your ability.
---
A highly accessible and useful book that explains how to communicate with people of other nationalities. More than a book about body language, it explains how culture, values, awareness, respect and flexibility allow us to communicate effectively and without offence. To do business in another country you need to 'learn the rules', say the authors. Pac and authors in their own right as well as having personal experience of expatriate life and work. Together they run their own company , 4C International.
---